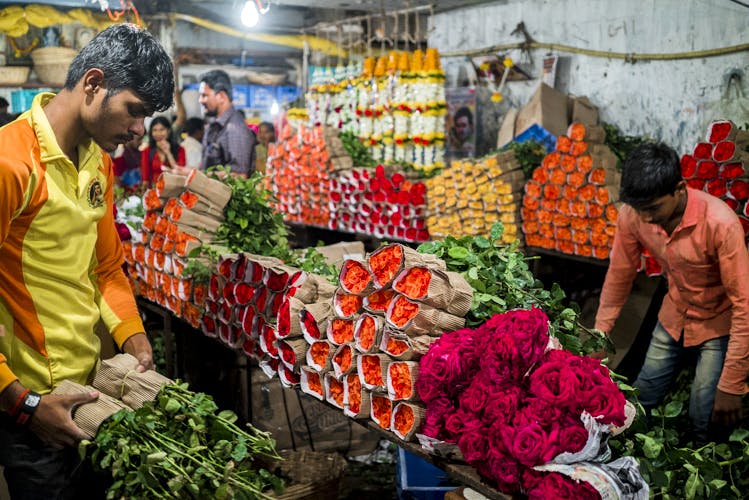 Flowers, Fabrics & Leather Goods: Wholesale Markets In Mumbai That Won't Leave You Broke
There are times when you don't want to head to a shopping mall. That's when the best wholesale markets Mumbai has to offer come in handy. Whether it's wedding preps or a renovation – these markets have always got your back.
Gandhi Market
Specialising in women's wardrobe, Gandhi Market in Sion is one of the most popular cloth market. This market is a one-stop place for all your traditional and Indian clothing needs including salwars and dresses, lehengas, sarees, anarkalis etc. Be sure to bargain as that's the key to saving money here.

If you're planning on taking train, this market is just a few minutes walk from the Kings Circle station. Or you could take a cab from the Dadar station as well.

#LBBTip: Most shops in Gandhi market are shut on Monday. So, we'd pick some other day for your shopping.
Crawford Market
Probably the only market that will have everything from wedding supplies to imported fruits and from beauty products to utensils. Crawford market is probably the most-visited market in the city with dedicated lanes of each type of product. Not only are the supplies fresh, but everything here is priced well, especially if you're buying in bulk.

There is an entire lane with only shops selling wholesale products including stationery, bags, shoes, home decor, accessories etc.
Read more here.
Mulji Jetha Market
Another one for textiles and fabrics, head to this centuries-old market in South Mumbai to pick your choicest of materials. Known for their quality products and fine textures, some of the stock here can hardly be found anywhere else in the city. Make sure you take time out to soak in the old charm of the place, complete with skylights on the aged ceiling.

Mushrooming with hundreds of wholesalers and a few retailers as well, this market is also claimed to be the biggest textile market in Asia.

Dadar Flower Market
Called the Phoolgali, Dadar's flower market scores extra points for being so easy to locate – it's right off the Dadar railway station. You get a wide variety of flowers ranging from local ones like marigold and roses to exotic ones like lilies. Not only can you find an exotic strand to take along for your date, but also get a wholesale order placed to decorate your home.
Read more here.

Chor Bazaar
Believed to have derived its name from 'Shor' Bazaar owing to its noisy nature during auctions, Chor Bazaar is where you come for buying antiques. There is a resplendent array of woodwork and metal art pieces, all of which are sold at a bargain. Be sure to head here if you are decorating your new home, or simply, to pick up a novelty.
Read more here
Lamington Road
This is basically the place to come to for every single electronic need – spare adapters, power supplies for new office spaces, repairing broken phones, restoring data from laptops, you get everything here.You may call this the technology hub of Mumbai, where you get everything from wristwatches to expensive servers.
Read more here
Lohar Chawl
Situated in Kalbadevi, Lohar Chawl has a dazzling range of lights to brighten up your home. You should head here for anything, be it setting up your new home to fixing up a new office space. You will get every single type of light with every single possible variety and intensity, at the widest range of prices.
Read more here
Musafir Khana
A good old market next to the Crawford Market, this market space specialises in crockery, Chinaware, kitchen essentials and utensils at cheap rates. From silver trays to unique plates, you'll fins it all here.

Read more here.
Dharavi Leather Market
Here where you can stay cheap and yet classy. Home to the largest leather market, head here if you're a true admirer of leather goods, but do not really want to break the bank. From backpacks to chic leather jackets and from belts to shoes, this market will spoil you for choice.

Read more here.
#LBBTip
Go to all the mentioned places with your bargaining skills in tow.

Comments