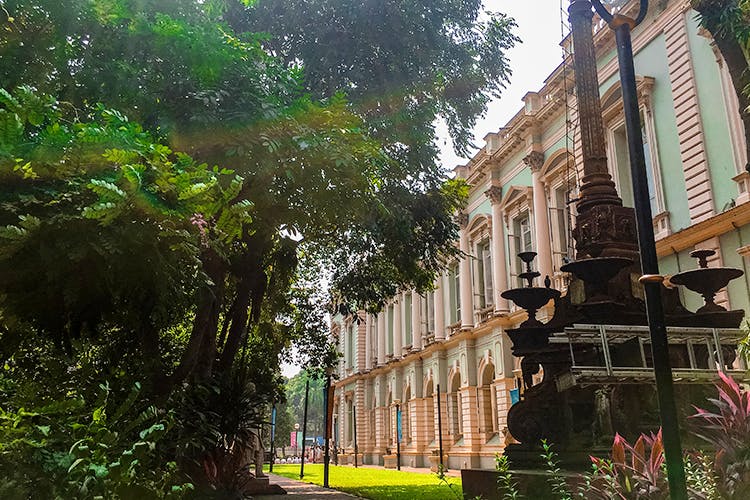 A Perfect Day: Greenery And Art For INR 10 At Dr Bhau Daji Lad Museum
Shortcut
Dr Bhau Daji Lad Museum in Byculla, isn't just a place to go to brush up your history – we visited and found art, greenery, and DIY kits.
No Money, No Problem
Forget spending money on cafes in the malls every time you want to get out of the house or meet your friends. Have you tried this museum yet? The entry to the museum is only INR 10 per head if you are an Indian adult, and INR 100 for foreigners. After you've gone through the gallery, and the exhibits there, is when the magic really begins, in our humble opinion. The space is open, green, and vast, which we love. There are quite a few spots to chill over here. Sit on the steps behind the museum, near the museum plaza or by the lawns. The café here is a really cool spot to spend time in, whether you buy something to eat or not – they're not fussy about that. There's constant AC, the walls are hung with beautiful framed art, and it has a very soothing vibe about it. It is not a fancy café, the cappucino is for INR 15, tea for INR 25, and they sell samosas, batata vada and amazing muffins. Apart from this, they sell packaged aerated drinks, chhaas, lassi, at their market rates. Also your regular packets of chips – it's almost like being back to college.
What Else?
The museum shop has a good collection of an assortment of things – DIY craft kits, puzzles of the ceilings of the museum, postcards, art books and city books on Mumbai otherwise a little difficult to find, art games and notebooks.
So, We're Saying…
The place gives you much more space than you'd ever imagine. Between the lush trees, the no-stress cafe where you can sit down with a book you bought from the art shop, and the overall laid-backness of the place, we wonder why history ever seemed such a pain.
Comments