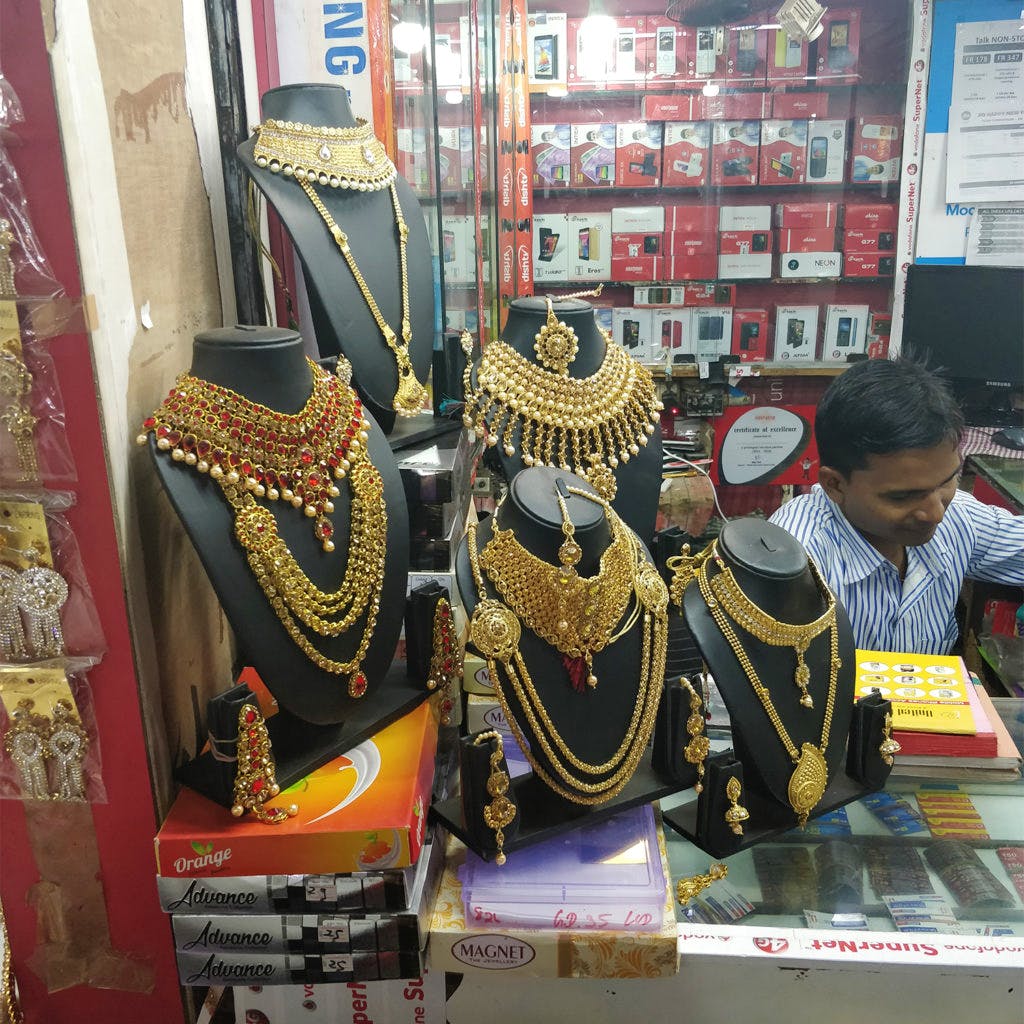 Shop Till You Drop: Head To Bhuleshwar Market Where You Can Buy Jewellery For As Low As INR 15
Shortcut
Shopping for edgy, and quirky oxidised jewellery to get your chic game on point is a whole different ball game than shopping for wedding jewellery. If you've got a wedding to attend, Colaba Causeway is definitely won't do justice. So, we took a trip to Bhuleshwar Market and found a whole gold mine of wholesale wedding jewellery vendors, where jewellery is sold at unbelievably low prices.

Kadas For INR 60 A Pair
Maa Arbuda International Jewellery is a shop that sells beautiful kadas that would pair well with all your suits and anarkalis. You could possibly even pair them with your sarees. Considering this is a wholesale market, the chances of getting a single piece for yourself are relatively less, but if you buy 2-3 pairs together, each pair would amount to INR 100 (and upward)
Latkans And Saree Pins Within INR 40
Gorgeous latkans and dainty saree pins that accentuate your attire and make a statement are sold in huge numbers and varieties at Bhuleshwar Market. However, the best collection we found was at Mauli Jewellers where latkans were sold at prices as low as INR 8 a piece, and the saree pins cost anywhere between INR 2 to INR 50 a piece.

Mangalsutras For INR 15
Today, most brides do not wear mangalsutras on a daily basis, but if you're opting for a budget wedding and want one just for the ceremony, or want one just to gift to your mother for daily wear, head straight to Navdurga Stores. They are sold for as low as INR 15 a piece.

Payals For INR 15 A Pair
Dainty silver payals with gorgeous stones that would gel well with your ghagras and ethnic skirts are sold for just INR 150 for a pair at Mahavir Ltd. You can buy 6 payals for INR 300.
Kamarband For INR 250
We stumbled upon some beautiful kamarbandhs, but the best one we spotted for INR 50 was at Ruby Creation. You can bargain and try your luck to get it at cheaper rates. Just ask them to bring out their entire stock. You'll find many masterpieces there which will give your ethnic look a sexy and chic look.

Pro-Tip
Don't forget to carry your bargaining skills with you. There's no stopping until the shopkeeper gives up! Most of these shops sell the jewellery in bulk (3-4 pieces together), but do ask for single piece price. They will easily agree.

Comments