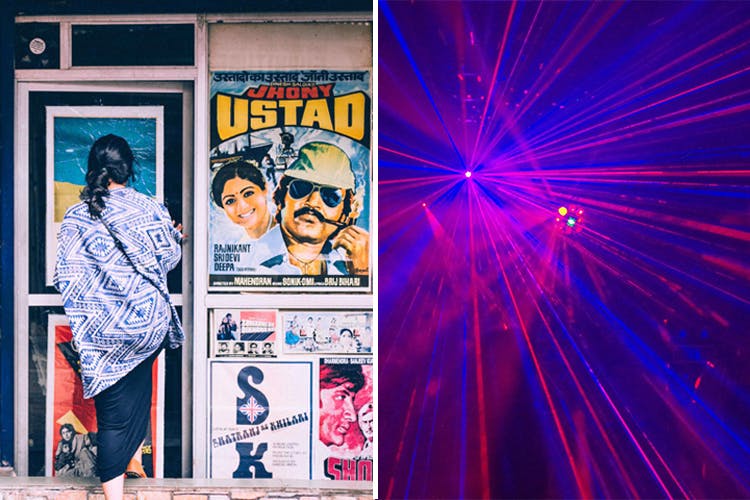 Disco Lights, Ghati Music & More: What You Need For An Epic Bollywood-Themed Party
Shortcut
Throwing a big Bollywood bash at home? There are few things – from costumes to lights to props – that you gotta keep in mind. We've listed them out for you, so that there's forever a bounce in your beat.
Shiny, Disco Lights
Several badly gone dates have been a clear lesson in disguise on how important lighting is to a successful situation. Keep your party Bollywood ready with appropriate dance lighting, and of course, a big rotating shining disco ball at the centre of it all. Vicky Lights, a small shop in Pali Naka is our go-to for party lights, and the charges start at INR 400.
Read more about it here.
The Set
Blank walls don't speak well of anyone, especially those claiming to throw an epic Bollywood-themed party. Hit up this insane poster shop bang in the middle of Chor Bazaar and put them up. And how about a game of Pin The Star while you're at it?
You can also get more props from shops such as Party Hunterz.
A Hair Affair
Here's an open secret: most wigs and hair extensions used by Bollywood actors are procured from a shop called New Star Wigs in Andheri West. You, too, can get your hands on these as it's open to everyone.
Dress Rehearsal
A shop in SoBo, Naval Trading Company has been supplying camo material, jackets, and uniforms to Bollywood for movies such as Baazigar, Deewar and Rustom. They also have army boots, navy hats, in case you want to ape a defence forces Bollywood role.
We also found this store in Bandra which rents outfits worn by celebrities for both men and women. You get everything there from gowns to tuxedos to get that Bollywood costume party rolling.
#LBBTip
To ensure that this rager is not the last one you ever throw, here's how to soundproof your home against the wrath of the neighbours.
Comments