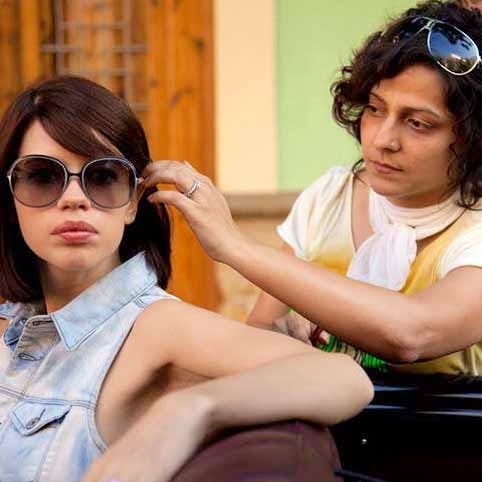 On Fleek: Six Mumbai Salons Bollywood Actors Swear By & So Should You
We all have been in awe of our favourite celebrities' styles and impeccable looks. Although it seems too perfect to be true, it certainly isn't unachievable. We have a list of salons which Bollywood swears by when it comes to their services, quality of work and style! So go, get that look you wanted without blinking an eye.
Salon Muah, Khar West
From Kajol to Malaika to Chitrangadha to Kareena, Muah is on a lot of celeb's speed dial when it comes to midweek pampering. A classic haircut with the head stylist there will cost you around INR 2,500. Our personal experience there has been quite fantastic too. They have quick service, they use quality products and the results are fantastic. The stylists there make sure to talk to the customers and understand their choice and personality before they go for a haircut or hair colour.
P.S- Stylists there are also sweet enough to give you hacks on how to maintain your hair and keep their treatment intact for long.
Kromakay Salons & Academy, Juhu
Actresses like Twinkle Khanna and Shilpa Shetty love visiting this gorgeous salon in Juhu. With 25 years of professional experience, Kromakay stands out for their quality of hair colour. Their star-studded client list has people from both Bollywood and Hollywood. So, if you are looking for a 5-star quality and terrific look, you know where to head. Haircuts there start from INR 1,000 and go up to INR 7,500 (inclusive of a wash, a blow-dry and taxes) with the salon head.
BBlunt Salon, Khar
Often frequented by actresses like Shraddha Kapoor, Alia Bhatt and Yami Gautam, BBlunt is the go-to salon for all the millennial actresses. A hair cur plus wash by the senior salon director will cost you around INR 2,400. The salon is also pretty famous for the amazing gel manicures which cost around INR 1,500. You can also get the nails extensions for INR 2,500.
Jean-Claude Biguine Salon & Spa, Bandra
Loved by a lot of celebrities (our favourite Karishma Kapoor being one of them), JCB salon stands out for their niche and quality service. But, the price of a standard haircut here is not very different from others mentioned on the list (INR 1,500). But, if you want the store's creative director to personally give you a haircut, you will have to shell out INR 2,750 and book an appointment at least 4-5 days in advance.
Freeda Beauty Salon, Khar West
This one is a little in the budget and is often visited by the sister duo of Malaika Arora Khan and Amrita Arora. The services are quick and the quality of their work is definitely very reliable and quirky. A hair cut and blow dry there will cost you around INR 1,200. So, next time you want a quick Bollywood-like pampering session, you know where to head.
Hakim's Aalim, Bandra & Versova
Aalim's work is immensely loved by all his customers, which also include some big names from the tinsel town (like Shahid Kapoor). The salon uses the best products and makes its customers feel comfortable and at ease before talking to them about their preferences. Any hairstyle they recommend will always suit your face. The stylists there also teach some good hairstyles that would go perfectly with your haircut. A haircut and wash by a senior stylist there will cost you around INR 1,600 and the same by the style director will set you back with INR 2,400.
Comments