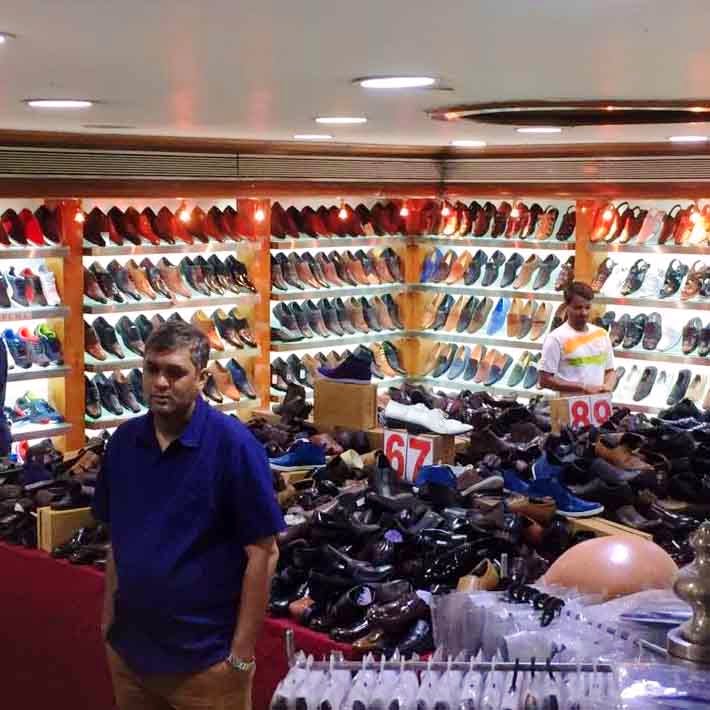 Not A Street Shopper? Footwear Stores In Colaba For The Brand Conscious Folks
Not all of us love street shopping and we get that. There are some things we best rely upon brands for, and one of them is footwear. Comfort and quality almost always take precedence over price, and when you make purchases directly from stores, returns and exchanges are easy peasy. So the next time you're in Colaba and want to give the street shops a miss, check out these popular and reliable brands instead.

Habit
Sandals, heels, ballerinas, wedges and whatnot, Habit Shoes has been around for ages. One of the most trusted brands in the market, their shoes are super comfortable and absolutely perfect for daily wear. I've personally spent hours walking in their flats and can safely say their shoes give you the least shoe bites. Their festive and seasonal collections are worth checking out too.
Metro Shoes
Given that Metro is a multi-brand retail chain, the options in there are dime a dozen. The store in Colaba is huge and the collections are vast- so you can literally look forward to all design and colour varieties. I particularly like their stone patchwork sandals, that aren't too blingy and look classy. Once again, these are good shoes for long term use, and ladies, they have options for those with large feet (up to size 13).

Bata
This brand needs no introduction. From a school kid to a grandparent, everyone knows, owns and prefers Bata shoes over most others. And with the brand having undergone multiple makeovers over the years, today their list of offerings include comfortable wedges, heels, beautiful ballerinas, quirky canvas shoes, and more. Their Colaba store by far is one of the best given its massive space- the outer section for men and inside section for women and children. FYI- they also have cutesy bags.

Ruosh
Formal, party, casual and more- you name the variety and we bet you will find it at Ruosh. The Colaba store has myriad options, and we love that they take care of the smallest of details, including segregating their shoe type basis need. For example, they even have driving shoes for men and women, which are basically your regular loafers with an upgrade. They also have cygna sandals, and we haven't seen too many good options for those of late, so if you're a fan, check them out at Ruosh.
Mochi
Again, a vastly popular brand, Mochi shoes, to me, is perfect for fancy yet comfortable footwear. While they do have a variety of casual, daily wear shoes, I'd still prefer these for slightly more important occasions. Their formal, wedding and party collections are worth checking out. Men, don't feel left out, there's enough and more for you too at their Colaba outlet.
Woodland
Ladies and gentlemen, if you've been wanting a pair of classy yet sturdy shoes, why exactly haven't you been to Woodland yet? Their classic suede shoes are a personal favourite, followed by their slip-ons. For those who walk a lot or partake in a whole bunch of outdoor activities, do check out their boots (perfect for those treks). Their canvas shoes too, are a good buy.
Hush Puppies
If quality is your primary requirement and money isn't a problem, Hush Puppies is where you should head. For ladies who love heels but have major foot ache problems, this brand has got you covered. Their footwear is super comfortable and highly recommended. The brand houses everything from casual to formal to occasional footwear for both men and women. I'm also a fan of their Oxfords, so watch out for them.
Adidas
Adidas needs no introduction. If you're a sports-lover or simply can't do without your sneakers, you know which brand to head to. Everyone's favourite when it comes to comfortable sneakers or kind of sports shoes, Adidas has, over the years, introduced Indians to some fantastic styles. The shoes are all priced handsomely but are all absolute value for money. Go get yourself a pair.
Nike
Much like Adidas, Nike is yet another preferred brand when it comes to sports shoes. From running shoes to football studs, Nike has it all. Style and comfort go hand in hand here, and like we said earlier, good things don't come for very cheap. So while you may have to shell out a few thousands, be rest assured you will buy shoes that will stay with you for years.
Puma
Light, airy and extremely comfortable, Puma shoes are good for running and any kind of sports. We love their store in Colaba, which is home to almost all of their varieties. A few of their designs include luxe fashion digital print sneakers which we love. Shoes, if you ask us, are best bought in person, so walk up to the store and get yourself a fabulous pair.
Citywalk
At Citywalk, we love their embellished strappy sandals which are a good pick for any festive soiree. Their comfortable heels are also fairly pocket-friendly (which helps).
Ask Shalvi a question