The information in this post might be outdated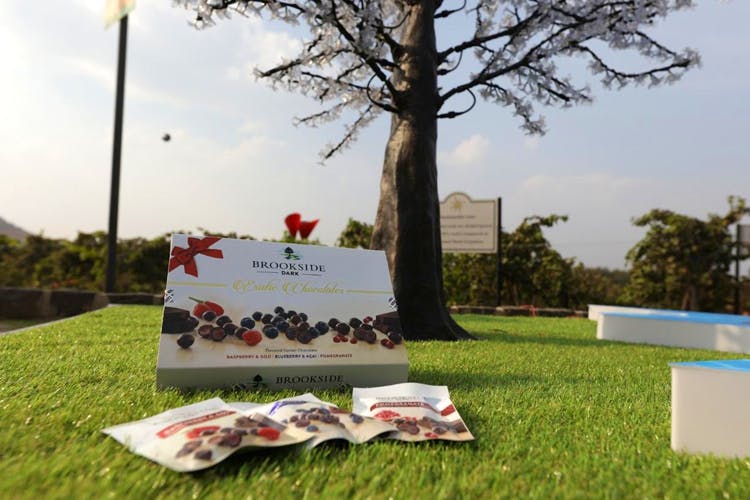 Missed Brookside At Sula Fest? Here's How You Can Indulge In Their Exotic Flavours!
Shortcut
All music lovers, wine connoisseurs, and chocoholics, if you missed India's most loved vineyard and music festival—SulaFest 2019, here's how you can get Brookside's sinfully delicious dark chocolates. Also, check out our insane wine-and-chocolate pairings that you've gotta try!
Beautiful Fusion Of Flavours
SulaFest 2019 is all about good vibes, great wine and everything exotic. With Brookside dark cocoa chocolates, experience the goodness of rich cocoa filled with exotic flavours of imported fruits such as blueberry and acai, raspberry & goji berries and pomegranate. One bite of these candies and you'll know what we're talking about.
But wait, don't just gorge on these beauties as is, combine them with our recommended wine pairings to leave the mundane behind. Enjoy the sophistication of Raspberry & Goji with a Zinfandel, Riesling or Late Harvest wine for a fresh lingering taste. If you're bigger on sinful decadence, Blueberry & Acai blends perfectly well with a Satori, Zinfandel or Late Harvest. For the sweet tooths, enjoy the bursting sweetness of Pomegranate flavour with Zinfandel Rose, Dindori White, Zinfandel or Late Harvest.
Sounds intriguingly delicious, right? Indulge in these full-bodied flavours and a dark-chocolate-boozy high as Brookside has officially associated with SulaFest. You'll realise how luscious these dark chocolate and wine pairings are!
So, We're Saying…
Love everything fine and fancy? We know you would've have already booked your passes to SulaFest 2019. So hit up the Brookside pop-up there and remember to bookmark this list for bold sweet and boozy chocolate-y sweet treats.
Find out more on their website. Follow them on Facebook & Instagram and stay updated about various offers.
Comments