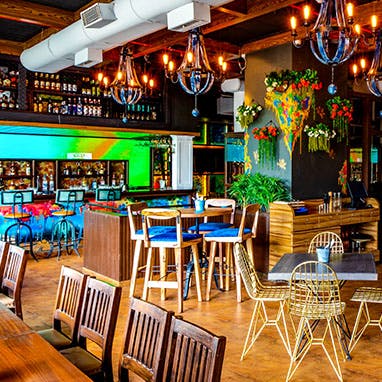 Night Out In BKC? Here's Where To Get A Drink Without Breaking The Bank
You don't always have to spend a bomb when you're out dining at BKC. In this list, we talk about all those bars that allow you to have a good time and not regret it the next morning when you look at your wallet.
Bookmark this for future reference!
Tru Tramm Trunk
This lounge has been popular with the party crowd in Mumbai thanks to some insane gigs and super potent cocktails. What we absolutely love is the variety of fun flavours on offer, and the affordable menu pricing! You can enjoy one of their Tharra cocktails (90ml liquour) which come in fun variations like the Gulabo U.P, a potent blend of Bacardi, coconut and pineapple juice at only 375 INR. You'll also get their fun alcoholic sodas like the Kalakhatta, house-made soda with whiskey and kalakhatta at INR 275. Beer drinkers, one pint will cost you INR 200 here.

Burn
Good comfort food, great weekend gigs and an even better alcohol offering…all without breaking the bank! Burn's menu is priced decently, with a pint of beer costing as low as INR 150, while their classic cocktails start at 225 while signature cocktails are at INR 425. They also offer Happy Hours till 8pm.

BKC DIVE
Built around the concept of a classic neighborhood dive bar, BKC Dive is a relaxed nightlife spot that's ideal for a post-work unwind sesh. A beer here can cost you as low as 135 INR while a glass of Sangria comes within INR 300. If this wasn't enough, they also offer Happy Hours where you can get 1+1 on drinks daily up till 9pm! If you're looking to relax after a heavy day at work, you now know where to head to now.

Butterfly High
What we love about this place is that it works well when we want to dress up and enjoy a good night out, even when it's on a budget. Their potent cocktails range between INR 400 to 600 while a pint of beer starts at INR 120. They also have an Instagram-friendly décor, so you know you're coming back with great pictures.

Capital Social
This bar is one of our favourites because how can one resist the charm of their potent cocktails? A pint of beer starts at INR 180 while you can enjoy their cocktails in as low as INR 325. We recommend getting the LLIIT, which means you're definitely getting tipsy. And all that for only INR 650.
#LBBTip - Watch out for their offers too! They have some great deals on drinking by the bottle we well.

Bar Stock Exchange
Everyone loves a good deal or two on booze, and this place is all about the deals! The prices of the alcohol here are displayed on screens all around, and are affected by the demand. We have in fact enjoyed glasses of Sangria at 100 INR too. Plus they have great finger food, which makes this outing a pleasant, and super budget one.

Comments