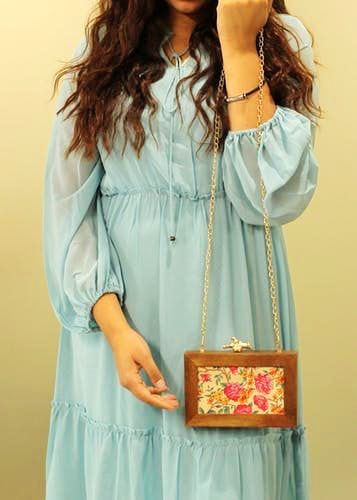 6 Budget Festive Clutches You Need To Bag
The festive season is almost upon us, and we're honestly in the mood to splurge, aren't we? If you, like us, are hell bent on creating your own fabulous festive ensemble, look no further. We've curated a list of gorgeous festive clutches that are affordable and should be in your closets. Check 'em out.
Flower Bouquet Printed Oval Clutch
One of our favourites, this pretty oval clutch has flower embellishments on it, with a gold chain that you can use to deck up your apparel for the day. We're crushing on how simple and elegant it looks, and how well it can go with both bling and muted colours. Priced at INR 849, these clutches are designed by Artklim.

Handcrafted Four Star Clutch
This pretty clutch is perfect for those traditional functions you have to attend. Embossed with gold metallic thread, on cotton silk fabric, it's dressy, classy and enough to carry basic things in. The clutch is designed by Samoolam and the idea behind the brand is to enable employment in rural areas for women to generate their livelihood. We love the thought behind it and we totally love the clutch. For just INR 850, you can jazz up your outfit and get festive ready.

Statement Dull Gold Clutch
Envelope clutches are the perfect option when you're heading out for a longer function and require more space to store your bits. Now, add some glam to them and you've got yourself a winner. This clutch is dull gold (which means, you can pair it with any outfit) and comes with crystals and metallic charms on it. Pair it with a traditional or upbeat saree, or even with other ethnic outfits and carry your little world in it. This statement clutch is priced at INR 1,250.

Multicolour Paisley Floral Clutch
We all love a good paisley print, don't we? This regal clutch is all about standing out of the crowd, and carrying a statement piece that can be used at any time of the day. Pair it with a gorgeous silk saree or even a muted lehenga and you're good to go. Created by Pinkfinity, it will cost you INR 900.

Feather Brooch Half-Moon Clutch
Apt for casual occasions, this gorgeous and minimalist feather brooch half-moon clutch by Fizza will cost you INR 1,299 and comes in three different colours - green, pink and tan. Got a fancy brunch to attend? Or, a cocktail party? Make a statement with this pretty clutch that you can hold in your hand or, even sling it. Be prepared for people to fawn over it, and thank us later!

Pink Rose Printed Wooden Clutch
Ever carried a wooden clutch before? Well, we've got the cutest one on offer. Created by Artklim, this gorgeous pink rose printed wooden clutch totally deserves a special place in your wardrobe. Paired with a detachable chain, you have the option to elevate your look too. We love the fact that it has a gorgeous gold lock at the top to make it stand out. It will cost you INR 1,065.

Comments