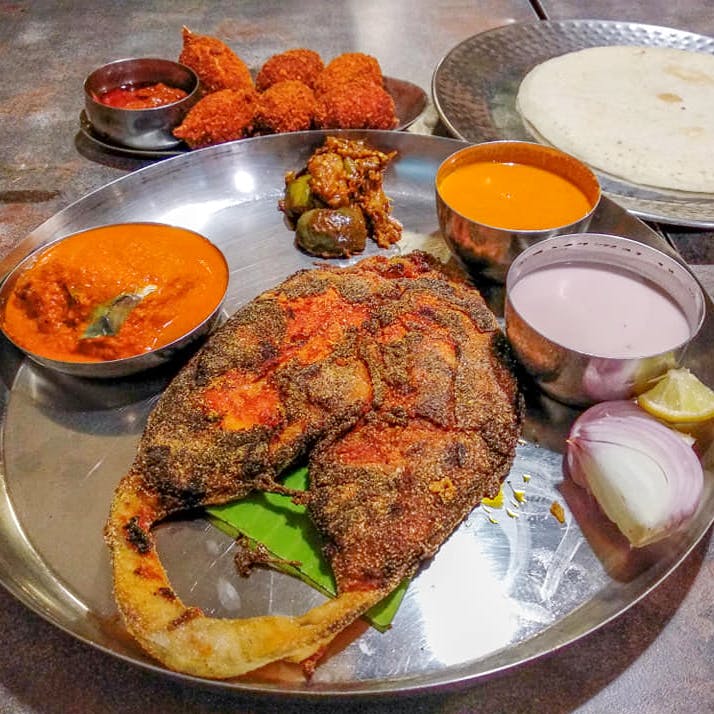 Here's Where You Can Eat Fin-tastic Thalis Under INR 350
Seafood enthusiasts, listen up! Here's where you can tuck into delicious seafood thalis at pocket-friendly prices. These restaurants all serve tasty thalis at less than INR 350, which makes for happy tummies and happy pockets.
Satkar Rice Plate House
Satkar is a favourite with Goregaon locals and comes highly recommended for its lip-smacking Malwani cuisine. Its tasty thalis are sure to transport you to the Konkan coast, a burst of bold coconut-rich flavours we can't resist. Served with either rice or traditional bhakri or vade, you can opt for a variety of options from the crab masala thali at INR 320 to the fish koshimbir thali at INR 260 and the classic fish thali at INR 380. Don't expect a fancy ambiance or decor here, but do expect heapings of soulful seafood.
Pangat
Pangat in Borivali has won our hearts for its delicious coastal Malwani fare. While they also serve the usual Chinese and North Indian fare, it's the seafood here that truly stands out. While you can of course order a la carte, the thali has the best VFM according to us! Their classic bombil thali and bhangda thalis are priced at INR 304, while the surmai thali is a bit more expensive at INR 460. Thalis come with fish fry, fish rasa, sol kadi, chapati, bhakri and rice.
Modern Lunch Home
Modern Lunch Home is a no-frills eatery in Sion that's a seafood lovers dream. The restaurant serves up hearty portions of coastal favourites like halwa masala, surmai fry, and special South Indian-style fish chilly! We love their thalis too, and you can choose from a range of options like the surmai thali at INR 310, the shimpli thali at INR 320 and rawas thali at INR 310. For non-seafood eaters, their chicken with dosa and mutton thali are also excellent!
Udaya Lunch Home
A hidden gem in Chembur, this humble eatery is a local fave for its Malabar cuisine. Tuck into Malyali dishes like Meen Urukiyathu or baby pomfret in a traditional clay pot, Fish Moilee or fish cooked in a delicious coconut gravy, and Kallummakaya Masala or mussels with tomato and curry leaf. They also serve a delicious fish thali - you can choose between the pomfret thali at INR 230 or the surmai thali at INR 200.
Chaitanya
Chaitanya is simple, down-to-earth, and also simply fab! If you're in Dadar and looking for good, authentic seafood, this is the place for you. They have a wide range of delicious thalis that you can choose from. The classic fish thali is priced at INR 160. They also have a pomfret thali, bangda thali, and prawns thali. Served with rice, sol kadi, fried fish, and a fish curry, these make for a satisfying meal that will leave you on a food high.
Comments