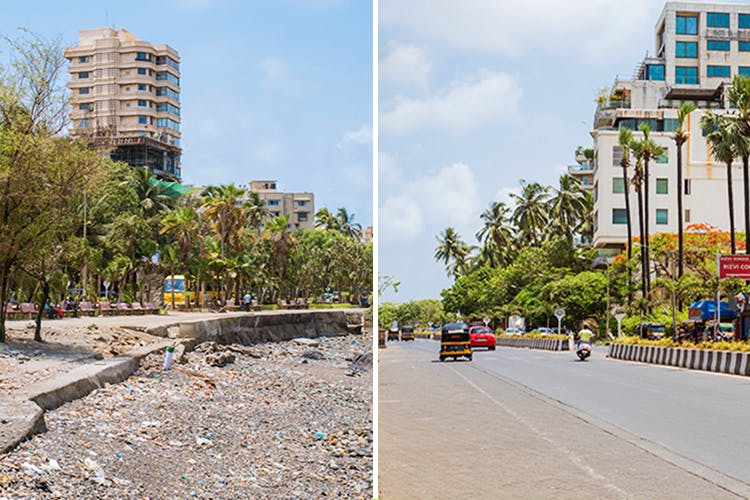 A New Initiative Will Clean Up Our Beloved Carter Road Every Week: Are You Going?
Shortcut
A lovely initiative has been set in motion by the Bandra community to organise weekly clean-up drives on the Carter road which has been littered for years. They will be organising weekly clean-ups on the road, first being on Sunday, June 4 from 10am onwards.
A Community Driven Clean-Up
Following the hard work, dedication and success of Versova beach clean-up – a Carter Road clean-up community has been set up. Versova beach saw almost 3.5 lakhs tonnes of rubbish which was cleaned up over a span of 85 weeks.
The initiative has taken by Bandra Residents welfare and the Solid Waste Management Department of the BMC, to get the same results as Versova Beach. This is to encourage community members to actively be a part of the clean drive, and make a case for clean living. Carter Road for years has been a garbage dump for all sorts, plastic, tins, cans and even food waste – which are dumped near the sea and park. It takes away from the scenic view and area that all residents should have access to. The dry waste from the clean-up will be taken to a recycling center.
What We Love
This clean up is open to one and all. If you care about the community, and want to see dirty and shabby Carter Road to transform into a gorgeous, clean area, then get involved.
It'll open the entire area for dog walking, or just, be easy to the eyes and not stink.
Every year, thousands of plastic gets washed up on the shores of Mumbai beaches and this is by no means is a healthy situation for any resident. We love that people are getting conscientious of their surroundings, and are willing to take the matters into their own hands. After all, charity begins at home.
So, We're Saying...
They want as many volunteers and hands as possible to make it worthwhile. This is going to be a weekly clean-up on Sundays until they achieve the desired result, and we're hoping that'll be soon.
If you'd love to help out, go there with on Sunday, June 4, 10am onwards. Carry gloves, but rest of the equipment will be given to you. Bring your spirit along folks!
Follow the Carter Road Clean-Up community of Facebook here.