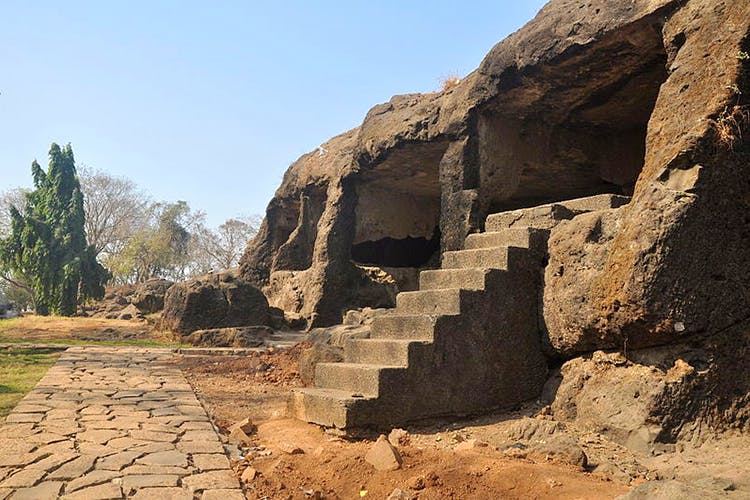 Don't Live Under A Rock! 5 Caves In Mumbai That Should Be On Your Radar
The city's madness is interspersed with cultural gems, and in this case, they are literally under a rock. Mumbai, surrounded by ghats, sea, and the plateau on each side, and a national park in the heart of the city, has enough to boast about already. And adding to the list of places to visit in Mumbai are the caves – mostly built by the Buddhists who believably had a proper settlement in the city in the early centuries.
All carved out of basaltic rock (the one majorly formed due to volcanic depositions), each of these has a story to tell. Here are the five caves in Mumbai that should be on your tourist checklist.
Kanheri Caves
Sanjay Gandhi National Park occupies the center of Mumbai and it's here that you can come face to face with the Buddhist history that is neatly arranged in the Kanheri caves. Dated between 1st century BCE to 10th century CE, this caves circuit houses ancient carving, timeless painting and inscriptions.
Popular For: Ancient Buddist history, an amalgamation of 209 rock caves, nature and treks.
How To Get There: The fastest way would be taking the train, the nearest station being the Borivali station. From there you can hop into a cab or a rickshaw.
#ProTip: We've heard cave number 3, 11, 34, 41,87 and 90 are historically important. So when there, make sure you explore these.
Mandapeshwar Caves
Located in Borivali, Mandapeshwar Caves date back to the 8th century and have shrines dedicated to Lord Shiva. These caves, believed to be originally built and sculpted by the Buddhists monks, eventually gave shelter to the soldiers of WW1, and Portuguese armies. Now protected by ASI (Archaeological Survey of India), these lesser-known caves make for a great cultural outing.
Popular For: History associated with World War 1, Shiva-Parvati engraved carvings, trek and adventure.
How To Get There: It's a short walk from the Dahisar railway station. If not the train, there are a bunch of buses as well. And if you're looking for a road trip, it's an hour drive.
Jogeshwari Caves
Dating back to 520-550 CE, Jogeshwari caves are inspired by the last leg of the Mahayana architecture (a Buddhist school of thought) and was later taken over by the Hindus. Located off the Western Express Highway in Jogeshwari, the locals here worship the idol of goddess Jogeshwari (after whom the locality is named too) and her footprints that can be seen inside the caves.
Popular For: Being one of the oldest cave temples in India, history and culture, carved pillars.
How To Get There: Again, this one's easily accessible by public transport including train, buses or cabs. You can take a cab either from the Jogeshwari or Goregaon station.
Mahakali Caves
A group of 19 basalt-rock cut caves which are believed to be constructed between 1st-6th century CE, and are a fair reflection of the Buddhist style of living. Located between JVLR and SEEPZ, you will need to cut the urban clutter to make your way to this piece of heritage.
Popular For: Buddist stupa and ancient figures, beautiful rock-cut monastery, historic walks and treks.
How To Get There: The nearest station to the caves is the Andheri station. From the station, there are plenty of buses or cabs which will take you to the caves.
#ProTip: Cave 9, the Chaitya is a praying hall and is the largest of the lot. This cave has seven depictions of Buddha and other accompanying sculptures from Buddhist mythology.
Elephanta Caves
Though not located in the city boundaries of Mumbai, this UNESCO heritage site consists of a series of 16 caves all depicting various stages and forms of Lord Shiva. Speculated to be placed between the 5th and the 7th century, the caves are managed by ASI.
Popular For: Hindu and Buddist culture and carvings, a tourist hotspot, ancient history and art.
How To Get There: The only way to reach Elephanta Caves is through Mumbai's Gateway Of India via an hour-long ferry ride.
#ProTip: You can visit the caves on all days barring Mondays.
Comments