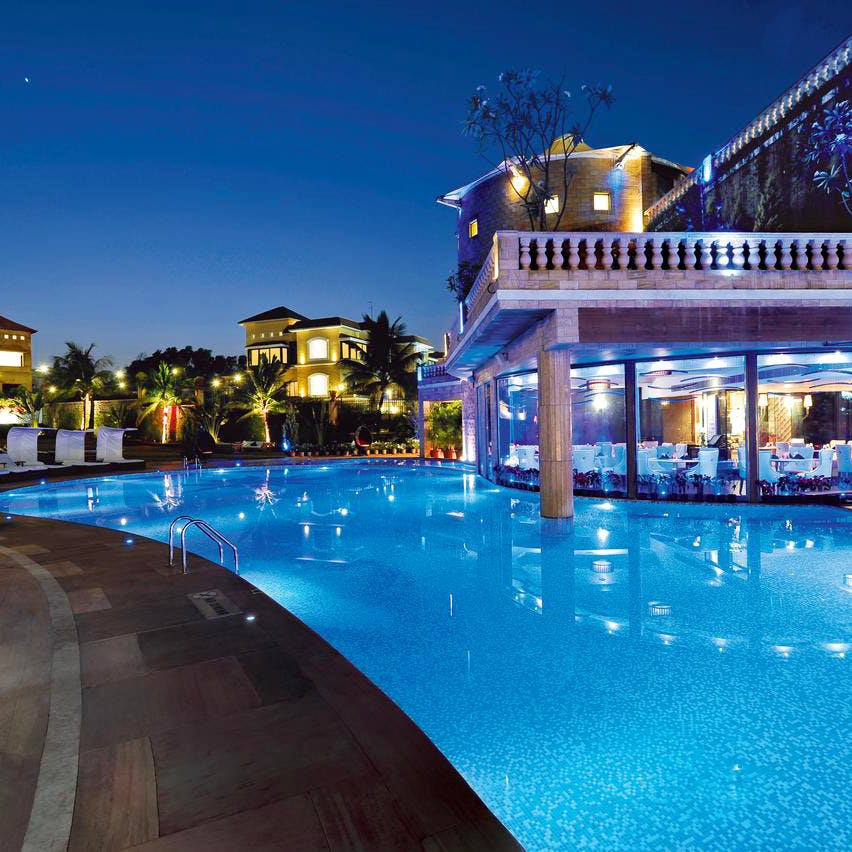 Under 4 Hours: Check Out These Weekend Retreats You Must Visit
The busy city life can get boring and monotonous, and we all deserve a break every once in a while. So here's where you can rejuvenate and rekindle your love for travel this year! Check out our list.
The Machan, Lonavala
The Machan is located in Jambulne, one of the 25 biological hotspots in the world. What we love about this resort is the 'up in the air' vibe of staying here. The treehouses are secluded and beautifully done up with hardwood floors and large windows which allow for the fog to literally enter our room. The view is green as far as the eye can see, with not a manmade structure in sight. Heritage, Canopy, Forest, Jungle Sunset and Cabin are their treehouse options.

Amenities We Love: bug-free rooms, Ayurveda spa, daily yoga sessions.
U-Tan Sea Resort, Uttan
Situated in the by-lanes of Uttan village, this place is tough to find! Uttan is a completely doable drive from Mumbai given it's near Bhayander. This Sea Resort is, however, completely different from anything you will see in the city. It's like the weekend getaway when you don't want to travel, and it's truly amazing.

The resort has a variety of rooms to accommodate couples, families, group of friends, and most of the rooms are sea facing with either a large balcony or a veranda. Watching the sunset while drinking chilled beer is all that you need to let go of any kind of stress. For the food, we suggest you try their Goan fish curry and rice, and opt for some good old poha for breakfast.

Amenities We Love: efficient bar service, massive lawn, conference room, a healing spa, swimming pool.
Della Resorts, Lonavala
Adrenaline junkies, this one's for you! Hugging the clouds, Della Adventure Resort is a getaway for those looking to relax their senses and engage in some thrilling activities like Swoop Swing, Fying Fox, Rocket Ejector, Motocross dirt bike riding, Aqua Zorb, Buggy Ride, Paint Ball shooting range and Bungee Trampoline. This resort promises a fun-packed weekend for you and your tribe.

Amenities We Love: Diversity in cuisines, 24 hours services including health and spas, military themed glamping resorts.
The Verandah In The Forest, Matheran
Matheran is well known for its pristine beauty and unique status as an automobile-free zone. Nestled deep inside a forest in Matheran is Neemrana's Verandah-In the Forest, a 170-year-old heritage resort where you can relax and get closer to nature and either find your inner self or completely lose yourself to discover a newer you.

Amenities We Love: 35 ft high ceiling, 19th century architecture, ancient painting and artifacts.
Basho Bougainvillea Resort, Mulshi
Planning a getaway with your partner? It won't get more beautiful, romantic and stunning than the Basho Bougainvillea Resort at Mulshi. Offering a variety of accommodation options-from cottages to tents to pool villas- each kind comes with a splendid view of the Mulshi lake and the sound of chirping birds.
Amenities We Love: Weekend yoga sessions, in-house spa, good books, swimming pool.
Iora Cottages, Alibaug
Iora cottages are not your usual run-of-the-mill stone cottages. Container-themed and inspired by nature, they are just five minutes away from Nagaon beach. The resort is a one-storey structure, packed with all sorts of recreational activities. You can indulge in bird watching, explore the area around with nature walks, do a night safari, and even experience a marine walk. What's also got us excited is that certain rooms have a balcony too and the resort has a terrace which offers a scenic view.

Amenities We Love: Open area with bluetooth audio system, kids play area and a garden, free WiFi.
Rumourss Sky Villa, Lonavala
Just a two-hour drive away from Mumbai, we are digging the countryside vibe of this resort, tucked away in the ghats of Lonavala. This eco-friendly resort has a unique design for its villas. The resort offers two types of villas-four sky villas and four earth villas. Sky villas are built on an elevated platform offering a panoramic view of the forests and ghats. Earth villas, on the other hand, are on the ground level, facing the swimming pool. We love the wooden decor and the picturesque view of Tata Lake.

Amenities We Love: wedding or party facilities, conference hall, pet-friendly.
Forest Hills, Tala
Think of this place as your private sanctuary. Forest Hills at Tala is a gorgeous, eco-friendly mountain valley getaway and is perfect for those looking for a luxurious getaway surrounded by nature. We're already imagining catching up on our beauty sleep tucked in the comfortable beds in one of the romantic villas or mud houses in here.

Amenities We Love: Camping ground, petting zoo, massage therapy, segway, horse-riding, rifle shooting.
Basera Villa, Alibaug
Basera Villa in Alibaug is a gorgeous 7 BHK spread over 3 acres of land, offers that luxury. The rooms are spacious and tastefully decorated, with four-poster beds, intricate wall art and a varied collection of artefacts. The best bit about it is that despite being in a town that is famous for its beaches, you can chill at the in-house pool or get yourself pampered in the hot tub! What's more, the villa is equipped with a fully-functional kitchen, in case you decide to channel your inner chef.

Amenities We Love: Swimming pool, indoor games, spacious.
Pashaan Villa
Pashaan Villa is a beautiful 1 BHK villa that offers a luxurious stay in Khopoli. The bedroom and living room are well-appointed with all the modern luxuries you'd need for a cozy and comfortable stay. Nestled in the side of a cliff, the split level villa comes with its own pool plus an alfresco courtyard. Highly recommended for that romantic retreat you've been planning.
Amenities We Love: Heated swimming pool, indoor games, spa bathrooms

Durshet Forest Lodge
Surrounded by the Sahyadris, this forest lodge is nestled in the heart of nature. It's a great eco-friendly option for all you nature lovers and the Amba that flows past the property. Rooms are comfortable and modern. Great for when you want a retreat from the city life.
Amenities We Love: Indoor and outdoor games, in-house restaurant

Comments