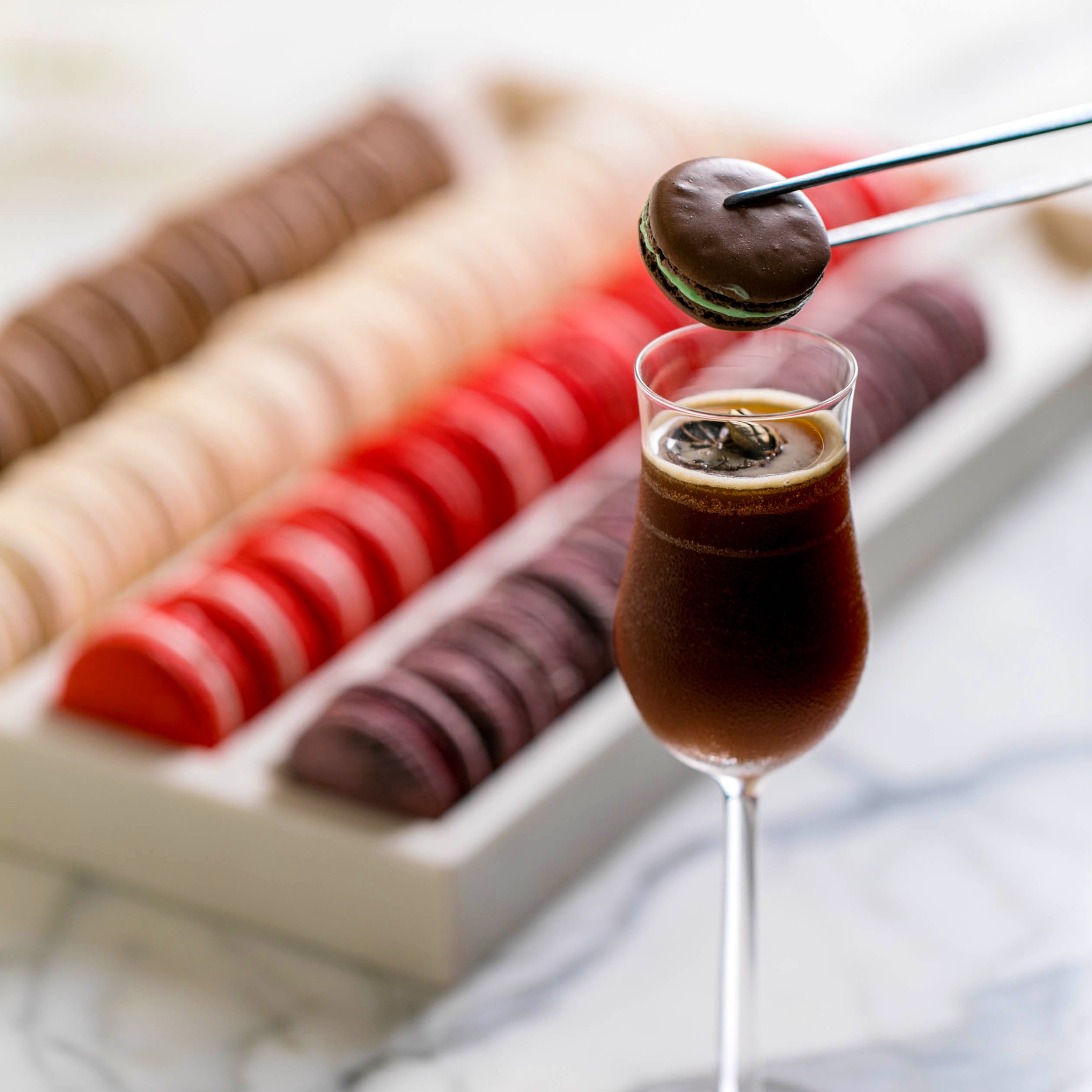 Boozy Chocolate Cocktails & Insta-Worthy Desserts: Chocoholics, This Is What You Need To Bookmark
It's rightly said (well, we believe so!), chocolate is the ultimate form of happiness. And there's nothing that makes our souls happier than delicious desserts and drinks with our favourite ingredient in them. Over many decades, the entire dessert and patisserie industry has seen an innovative revolution with unique ingredients combinations, phenomenal plating and extraordinary taste.
We list the most offbeat and delicious chocolate inspired desserts, beverages and drinks.
Chocolate Whiskey Sour, D51
Dark chocolate, whiskey & coffee – our cocktail couldn't get better. Sip this unique chocolate-themed cocktail called Chocolate Whiskey Sour and indulge in the sweet, bitter and sour taste of whiskey, dark chocolate Hersheys, agave and coffee powder. Served in our favourite resto-bar in BKC, D51, this drink comes with pretty garnishing of white and dark chocolate flakes.
Coffee & Violin, Light House Cafe
From their many options in cocktails, this one clearly stands out for its unique combination. Beer and chocolate infused cocktail called Coffee & Violin, this drink is a delicious mix of dark and white chocolate, coffee with Murphy's stout beer floating. While you enjoy this cocktail, we'd also recommend trying their yummy chocolate hazelnut Swiss roll (for those who want to get high on Nutella).
Molten Chocolate Steamed Bun, House of Mandarin
After looking at the House of Mandarin's dessert menu, we realised it's indeed true that there's no such thing as too much chocolate. Try their mouth-water molten chocolate steamed bun and their signature Belgian Chocolate and Mandarin Dome. A shiny glaze, amazing texture and world-class plating is something that defines all their desserts.
Jalapeno Scented Chocolate Lava Cake, Chin Chin Chu
This casual dining restaurant in Juhu is offering our favourite dark chocolate lava cake, but with a twist. Served with classic vanilla ice-cream, it comes with the spicy jalapeno. Well, for those who like trying offbeat desserts, you should go for this one.
The Chocolate Salt Pepper Sugar, White Charcoal
Well for those who love experimenting something offbeat dishes, with unconventional mix and matches - this one's for you. Their signature dessert called Chocolate Salt Pepper Sugar is a table design which includes a dark chocolate mousse, sea salt praline, black pepper ice-cream and Amaranath crumble. We're in love with this spicy-sweet mix this dessert comes with.
Orange Centre Dark Chocolate Dome, Loco Loca
Bitter chocolate and tangy orange is one of the best combinations when it comes to desserts. One of the most elegant desserts we've come across, this delicious dessert is a dark chocolate mousse with orange jelly and orange marmalade. And there's a surprise element in the end. The base of the dessert has a candied flavour giving the dessert a sweet, tangy and spicy blast.
Chocolate Mint Cocktail, Yauatcha
Well, our favourite fine-dine restaurant for authentic Chinese cuisine, they have a kick-ass chocolate mint cocktail which includes some of the fanciest ingredients. Made with rum, Fernet-Branca, amarula liqueur, creme de cacao espresso, miniature mint and chocolate macaron, this we love this cocktail for its minty and herbaceous aroma and deep richness of mint and chocolate.
The Peru, Rocky Star Cocktail Bar
While we've always loved the amazing cocktails, we're in the love with their dark chocolate shots with 24 carat gold. An epitome of luxury, this dessert is inspired from the sweet flavours of The Peru. The dessert includes Belgium chocolate shot beside the butter cookie spread over hazelnut mousse. Their garnishing only makes it better. The dessert comes with 24K gold biscuit with roasted marshmallow.
Irish Baileys Shake, Plate And Pint
If you're looking for a creamy drink, this one's for you. One of the popular drink on their menu, The Irish Baileys Shake includes Cocoa and Irish Bailey powder which is blended with ice-cream and served chilled in a tall glass.
Manjari Chocolate Cheesecake Martini, Esora
A quirky chocolate martini, served in Esora, a fine dining restaurant located in Oberoi Garden City and Mondo Fine Dine. The drink includes unique ingredients like coco-cola, Monin, chocolate, lime wedge and a hint of mint. So, if you're up for some experimenting, we'd say go for this one!
Choco-tini, The Daily Bar & Kitchen
This World Chocolate Day, The Daily Bar & Kitchen has the perfect Choco-tini for you to indulge in. Made with vodka, dark chocolate, homemade orange liqueur, orange juice and garnished with chocolate and orange rind, this Choco-tini is a decadent cocktail that is a perfectly balanced combination of rich, bitter and intense. These ingredients, though vastly different, come together in a wondrous amalgamation that will give your favourite childhood beverage an adult update.



Ask Shaili a question