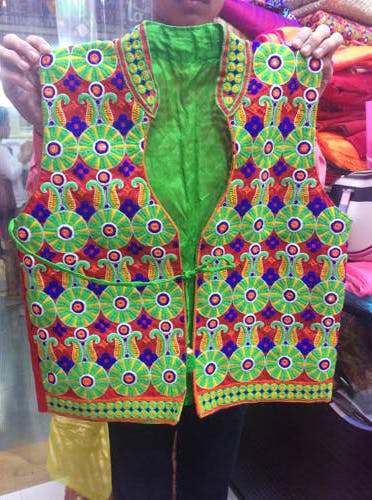 Mumbai Cloth Markets For Your Fabric Needs
Mumbai and shopping go hand in hand for most, and if you're new to the city or just need a birds-eye perspective on the cloth markets to visit, keep this list handy, and use it to scour for fabrics when you need to get outfits stitched!
Hindmata Market
One of the biggest cloth markets in Mumbai, Hindmata market is a long stretch of fabric shops with both big showrooms and small hole-in-the-wall tailor shops one after the other. Here, you can find almost anything on a budget, and spend a day there. Read this to know about one of the shops we recommend in the area.
Mangaldas Market
Located right next to South Bombay's Crawford Market is the fabric hub – Mangaldas Market. Here, you will find a lot of different types of fabric material at wholesale rates – from cheap sari materials to lehenga cloth as well. Just carry a lot of water along... It's going to get tiring walking through this one!
Gandhi Market
Near Sion's King Circle is Gandhi Market – a whole hub for cloth materials as well as ready-made garments catering to cheap as well as high-end budgets alike.
Manish Market
Manish Market is Andheri's go-to for everything ethnic. From gota work to borders, ready-made blouses, basic cloth materials and more. The bonus? There's big brands and smaller businesses alike in this small but quite crowded stretch. Check our guide to the market here for more details.
Natraj Market
Natraj Market in Malad is a budget shopper's heaven, as you get everything from tiny buttons and sequins to large cloth fabrics, dupattas, blouses and more. If you want to get your outfits made there, there are local tailors sitting outside the shops who are ready to alter your ready-made buys, or make something from scratch for you.the whole stretch of Malad SV Road, in fact, is a haven for fabrics and tailoring needs.
Santacruz Station Road Market
Be it high-end or budget-friendly, the Santacruz station road bazaar is the answer to all your fabric woes. In case you're looking to buy bridal wear fabric, just walk into Samrat or Bhagwan Fabric and you're sorted. The trick to shopping here is bargaining with the vendors. You can maybe take a friend who is a pro at it.
Mulji Jetha Market
Labelled as one of the largest textile markets in Asia, this one's located near Zaveri Bazaar and you will get super cheap fabric here, with no decrease in quality. Its over 130 years old! You'll find tons of imported textiles here, as well.
Kurla Kapda Bazaar
Also known as Chindi Market, and rightly so, Kurla Kapda Bazaar is famous for Indian fabrics. You will get a lot of them for lehengas and anarkalis, for pocket-friendly prices. However, just be a bit vigilant while making the purchases because the quality might not be as bang on as the other places mentioned in this list.
Bhuleshwar Market
Bhuleshwar Market is quite famous for wedding shopping on a budget, and the fabric there will make you go crazy. The area offers an amalgamation of simple, but rich fabrics, all at affordable rates.
The fabrics can start as low as INR 50 per meter. Now, isn't that something?
Comments