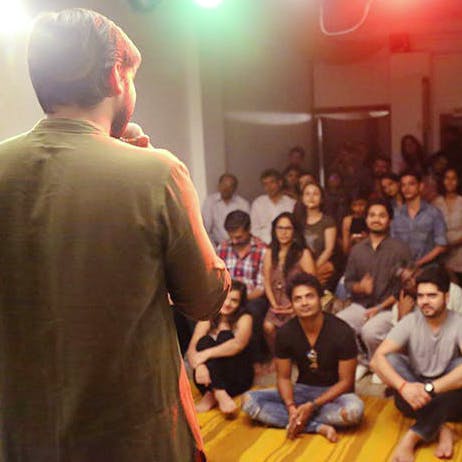 Love Cultural Nights Out? Here's A Venue To Suit Every Mood
We love heading for live performances and gigs on the weekend. If you do too, these are the best places to check out in the city for plays, concerts, shows, gigs and more!
Above The Habitat, Khar
Brought to you by the people behind The Habitat (earlier known as Tuning Fork) in Khar is a new space called Above The Habitat. This space which is purely dedicated to the performing arts, open mic nights and music gigs is a 140-seater space and can take up to 160 people seated and in the audience, standing.
The Bandra Base, Bandra West
Bandra Base is a culture club that hosts intimate performances for audiences of not more than 60 people. A must visit for music lovers in the city, the place is extremely cosy and warm. You'll find a studio available for rent here too, plus regular performances of poetry, jazz nights, jam sessions, improv nights, and film screenings.
The Mumbai Assembly, Bandra West
Hosting monthly big jams, workshops and live performance, The Mumbai Assembly aims to bring the artists and performers' communities under one roof. It's an unconventional space that promotes arts through curating performances, music events, dance, workshops and theatre along with collaborating with other networks that do the same in this city.
Overact – The Alternative Theatre Space, Andheri West
A place for theatre and art enthusiasts, 'OverAct – Empty Space Acting Academy' is dedicated to performing arts, acting workshops, stand-up nights and jam sessions. The studio also offers space for rehearsals and photo shoots.
Prithvi Theatre
This iconic landmark in Mumbai was revived by veteran actor Shashi Kapoor as a tribute to his father, the legendary Prithviraj Kapoor. This space screens plays every week, and if you wish to check out some of the best theatre groups in the city, you need to pay this beautiful, quaint space a visit.

Bal Gandharva Rang Mandir
The Bal Gandharva Rang Mandir is a creative space in Bandra that combines the tradition of music and theatre art, and balances it with modern architecture and facilities to provide the best theatre experiences. Theatre performances, live shows and concerts, exhibitions and other community activities are often held at this space which promotes performing arts.

NCPA
This is the first multi-venue, multi-genre cultural centre in South Asia, and is the ideal destination to visit in Mumbai if you like culture, heritage and art. There are a whole lot of events that are held here throughout the year, ranging from opera, drama, jazz concerts, chamber music, orchestra and dance performances. This venue also has art galleries.

The Cuckoo Club
An initiative of The Hive at Khar, this is a bigger space that hosts events ranging from open mics and stand up comedy to dance performances. This venue is an arts performance venue, and also doubles up as a rehearsal space, theatre and co-working space.
Mumbai Art Room
This space provides a platform for national and international curators to engage meaningfully. Exhibitions are held here, and this venue exhibits contemporary art, design, and visual culture from around the world. It provides a non-commercial platform for artistic expression, and celebrates creative freedom.

Comments