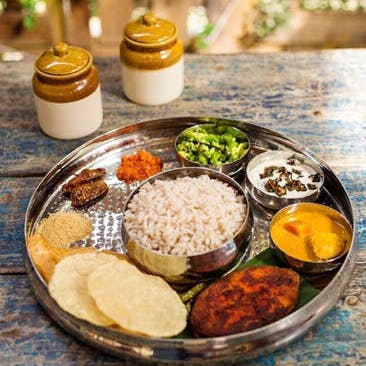 Seafood Thalis & More: This Bandra Eatery Is Serving Authentic Coastal Delicacies
Shortcut
Inspired from the western coastal areas of India, peppered with journey and love, Curry Tales in Bandra is serving up authentic, and home-style curries to one, and all.
Nothing Like a Good Old Curry
Curry Tales has been started off by Sandeep Sreedharan, and their idea is to bring in as many coastal flavours and authenticity to their dishes as possible. Tucked away in a corner of hill road, the yellow bungalow invites you to step in with its rustic vibe and homely feel. The space is warm and inviting with a decor to match its vibe, tiled floors and origami paper lanterns adding to the look.
Chow Down
To begin with, they offer lunch and dinner menu. For their lunch, they have special thalis at offer, the vegetarian thaali (INR 375), non-vegetarian thali (INR 495), and a seafood thali (INR 595). We loved the thalis for the sheer variety they offer, and they are a fantastic way to sample the coastal flavours without committing to a single dish.
Moving on, the menu is packed with Mangalorean, Kunnur, Goan dishes. They have Kerala, Maharashtrian and Goan dishes, and all have been made with ingredients that are typically used on the coasts. Each mention on the menu has the home state mentioned next to it, which we find a great addition. Begin your coastal journey with their light appetizers, kokam kadi (INR 100), or the tomato rasam (INR 110).
For mains, there's mushroom sukha, chicken ghee roasts (cubed chicken pieces roasted in ghee), and a special from Kazhikode, crab pulimulagu dry. And if you enjoy prawn, then opt for the prawn rechado - sweet, spicy the flavours are perfectly balanced. Finally, for desserts they have two kinds of desserts; seviya with pomegranate, and paaalpayasam with jaggried coconut to end your meal.
So All In All...
Every dish here has a story, and they encourage you to ask them about the tales behind it all. If you're in the mood for comfort, and flavours of different states, make sure to drop by Curry Tales in Bandra. It's an ode to the west coast, and more.
We recommend: The tomato rasam was a soul-comforting, tangy and spicy preparation that warmed us right up from the monsoon rains and the bhindi fry was surprisingly a complete hit! Another stand out was the thali - the veg thali and fish thali were awesome and a great way to try their different flavours from the coast.

Comments