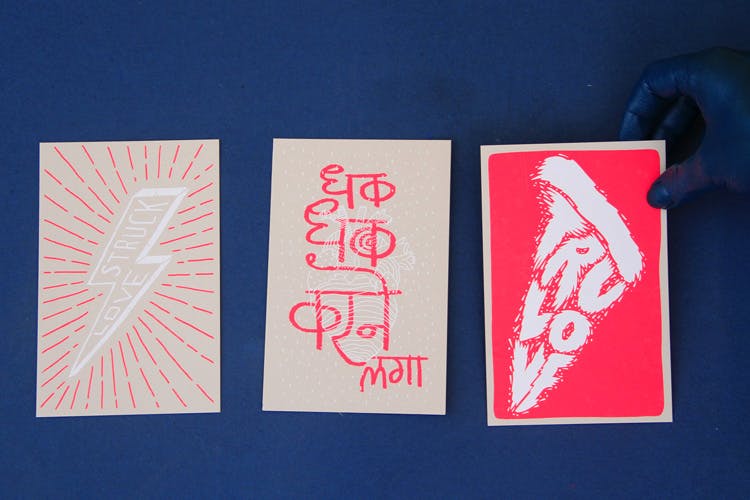 Customised Gifts for INR 100 Upwards Will Solve All Gifting Problems
Forget the gift vouchers and the flowers they'll throw away. Here are the Mumbai artists who will make gifts – whether they be notebooks, mugs, or even standalone postcards – made to order, for as less as INR 100.
Cre8tive Corner
Started by Mumbai-based Nirali Gada, Cre8tive Corner makes personalised doodles on a range of products. Email Gada a quote, photo, idea or concept, and she will customise her doodle accordingly. We loved the doodle notebook with tiny, customisable cartoon-like characters sprawled all over each page. They also have key chains and photo frames which fall on the quirkier side of The scale.
Price: INR 150 upwards
Find them on Facebook here.
The Bright Log
The Bright Log, started in 2014 by three friends, offers handmade, personalised gifts. They do a lot of travel-based work, so we would love to send them some knickknacks from our last trip to add to our ever-growing pile of memorabilia. TBL does a lot of henna designs we particularly liked, so check those out as well.
Price: INR 200 upwards
Find them on Facebook here.
The Postcard People
The Postcard People, started by three graphic designers in December 2013, make customised postcards. We loved the postcards because not only can you customise them, but also mail them the old-fashioned way. These guys will work particularly well, if you, like us, get excited every time you get something in the mail. They're particularly good at caricatures, so feel free to share your friend's worst tagged photo on Facebook — we know we did.
Price: INR 350 upwards
Find them on Facebook here.
What's In A Name
What's In A Name sells customised notebooks, laptop covers, coasters and bumper stickers. The founder, Apurva Chaudhari, only started customising designs a year ago, after friends requested a copy of the print she did on Coldplay lyrics. Lyrics such as "honey you're a rock on which I stand" and "stuck in reverse" are accompanied by doodles of a rocky landscape and a large looping U-turn. Chaudhari has also made prints for fans of both Arsenal and BBC Sherlock, so we're planning on getting our hands on some Beyonce merch ASAP.
Price: INR 100 upwards
Find them on Facebook here.
Comments