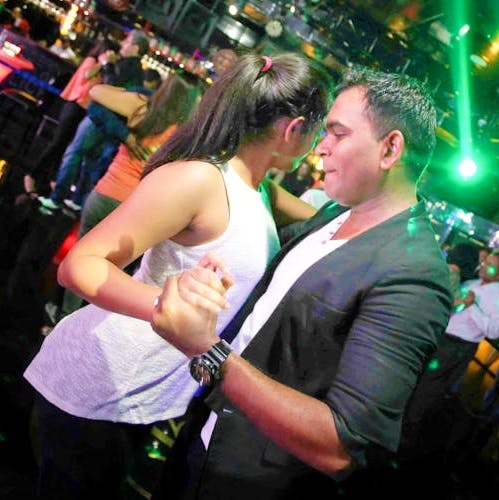 Sway With Me: Where To Try Salsa, Kizomba, Freestyle And More In Mumbai
Research says couples that dance together, stay together. While the research may or may not be true, dancing together makes for an unusual date and a great way to shed those love handles. Here are some of the dance forms that you can learn with your partner in Mumbai.
Quickstep
A faster version of the Foxtrot, Quickstep is a ballroom dance style composed of extremely quick stepping and syncopated feet rhythms in time to fast-paced music. Although difficult to master and perform, the Quickstep is lots of fun to watch. This one's for the pros. Learn it at Conrad Coelho.
Freestyle
If norms are the last thing you and your partner follow and prefer mixing things up, choose freestyle. A mix of everything from hip-hop, Bollywood and even disco, it's a no rules activity. Although people usually think of street or club dancing when they hear the term "freestyle dance," individuals use various improvisational techniques in many different genres. They can make up moves in styles such as jazz, belly dance, hip hop, blues, break dance, jumpstyle, folk and electronic dance, just to name a few.
You can learn at D Element.
Tap Dancing
Tap dance is a combination of British Isles clog, and step dancing with the rhythms of West African drumming. Created in the mid 1800s, it requires practice and perseverance – but once you get the hang of it, is one of the most fun dances. If you and your partner are more about chemistry created through creativity, tap dance is the way to go! TR Dance Company organises workshops and batches you can check out. But be warned – you'll have to arrange for your own tap shoes.

Kizomba
Kizomba is a style of dance that originated in Angola. It is draws from a combination of African traditional rhythms and Caribbean influences that come together to create a unique, sensual style that's perfect to dance with your partner. A contemporary style, Kizomba has only become more popular over the years. You'll find it popping up as a style across dance studios in the city. Madmax Academy of Dance in Bandra has regular classes that you can sign up for.
Salsa
Salsa, one of the most popular social dance styles, is also one of the most fun to learn with a partner. And you might be surprised to know that there isn't just one single style of salsa dancing! Drawing from African, Caribbean and Latin roots, salsa is deeply rhythmical, and the basic salsa steps consists of three steps for every four beats. You'll also find some variation of salsa taught at most dance schools across the city. You can sign up for classes at V.R. Dancesport in Charni Road.
Bollywood
No list on dancing would be complete without adding Bollywood to the list. While not exactly a dance for two, Bollywood's sheer energy is sure to get your heart pumping. What better way to hit your fitness goals, have fun and spend quality time with your bae? While there's no shortage of places to hit up for Bollywood, we can't go without mentioning the classic - Shiamak Davar. With classes and batches across the city, you're sure to find one to fit your schedule!
Bachata
A Latin American dance from the Dominican Republic that's taken the city (and the dance world) by storm, Bachata is hot, hot, hot! There's good reason this dance form has blown up the way it has. A social dance form, Bachata is danced to an 8-beat count that's sensual, with plenty of hip and foot movements. It's a partnered dance, and is perfect for couples. While plenty of places around the city perform the dance, we like Cornel and Rithika Bachata Sensual where you can sign up for classes or workshops if you're planning to learn this form.
Comments