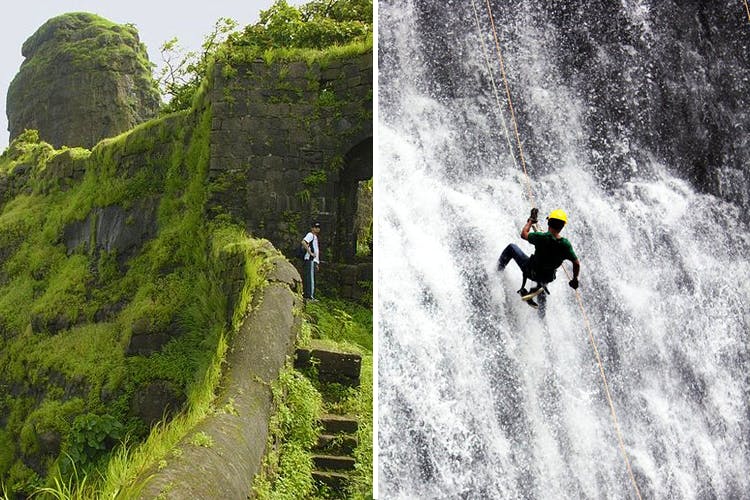 Of Forts, Waterfalls & Dams: How To Have A Fulfilling Day Trip To Karjat
The city may give you the greatest adventure of your life but what it takes away is one thing – time. You'll be looking to get away from the noise but, you'll rarely have the luxury to be out for days on a stretch. For weekends when you only have a day, we have places for you to be at. And Karjat is one.
Breakfast (7:00AM-8:00AM)
The route to Karjat goes through Navi Mumbai, and there are a couple of brekkie stops along the way. How about keeping it simple (and vegetarian)? Stop at Navrtana Veg Restaurant in Vashi and get yourself a plate of medu wada (INR 65) or kande poha (INR 65). They also serve adrak wali chai to wake you up. Hit the road after and keep driving for another hour to get to your next stop.
Karnala Fort & Sanctuary (8:00AM-11:00AM)
The road will lead you to Karnala fort if you take a short detour. Karnala fort, also known as the Funnel Hill and situated at a height of 1,440 ft, is located within the Karnala Bird Sanctuary in the Raigadh district near Nashik. This is an easy level trek, which relevantly witnesses the climb of all the newbie trekking enthusiasts. The fort is ideal for a short trek that overlooks the spectacular view of the valley. After you're done conquering Karnala, walk to the Karnala Bird Sanctuary. Stop for a quick snack before hopping back into the car.
And, bingo! Monsoon is the best time to head out here!

Bhivpuri Waterfall (1:00PM-2:00PM)
It'll take you about an hour to reach Karjat. Please, please head to Bhivpuri waterfalls, for they have waterfall rappelling. Once you reach there, participate in this adventure sport. You will rappel down from sixty feet and get an amazing adrenalin rush.
Break For Lunch (2:30PM - 4:00PM)
Namak Restaurant is about 20 minutes from the waterfalls. You can head for lunch there and have chicken seekh kebabs or palak paneer. We're told their green chutney is good. Also, you can have a quick beer here (drivers, refrain).
Head Out For A Stroll (5:00PM-7:00PM)
Use this time to head to Sondai Fort to get your head into the clouds, literally. Located in Sondewadi district of Karjat, the fort is is one of the best treks one can go on with friends in the monsoon season. The roads are not in very good condition so expect a bumpy ride, but the trek is certainly one hell of an experience. The hike is quite easy and can be completed within three hours.
Once done, you can go spend some time with the water gushing down with force at Morbe Dam afterwards.
Dinner & The Journey Back (7:30PM -11:00PM)
The journey takes two hours to get all the way back to Mumbai. You can make a stop at a chic rooftop restaurant called Zenzibu Da Sky Lounge at Koparkhairane in Navi Mumbai for delicious Indian and continental cuisine and some drinks. Drivers get to drink mocktails.
Comments