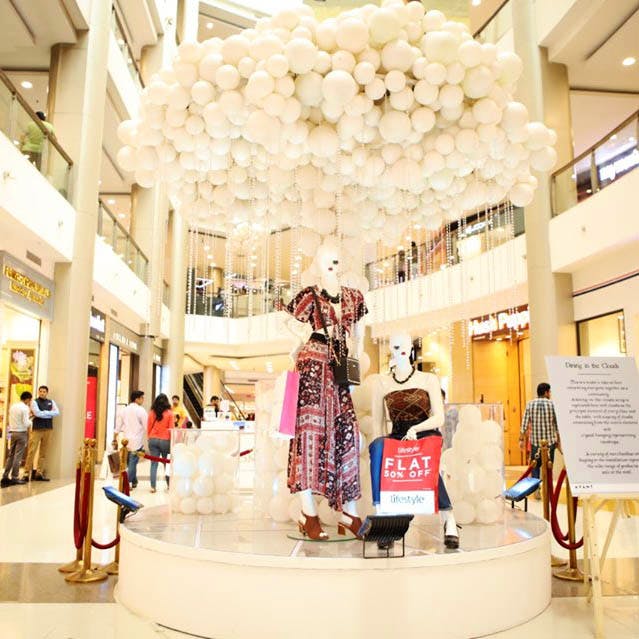 It's Raining Offers! Check Out These Awesome Deals In The City
It's monsoon. And as all great shopaholics know, monsoon means sale time. We combed through the deals that are on offer this month and put together some of the best ones that caught our fancy. Read on for more!
For Fashion: Lifestyle (Across all outlets)
Who doesn't love a great offer? And Lifestyle stores across the city are offering a whole range of exciting deals that we can't wait to check out! Be it a Melange, Ginger, BIBA, Code, and even ONLY, you'll get all of it on sale here.
The Deal: They've got a maximum of 50 percent off on clothes right now on clothes (for men and women), shoes, and handbags. And even though we're at the tail end of sale season, we know you'll find a piece (or five) that you'll love! Use the deals to give your wardrobe that long-overdue shake-up.
For Accessories: Accessorize, Multiple Outlets
Clothes are the foundation of our wardrobes, but accessories are what really make our style statement pop. We love Accessorize for their chic and trendy necklaces, rings, earrings, bags and more. We do find their accessories beautiful, but on the pricier side - which is why we are so excited to find them on sale.
The Deal: Accessorize is offering a 70 percent off on handbags and a variety of jewellery. Grab them all while the offer's still on, ladies!
For Shoes: Metro Shoes, Colaba
Metro Shoes is a staple when it comes to shoe shopping, and this Mumbai-based brand has outlets around the city. This store has both their own brand-name shoes plus international brands as well - Red Tape, Lee Cooper, Clarks, DaVinci, Lemon & Pepper and more. We love their elegant sandals, heels, and ballet pumps. Their range of men's shoes is excellent as well.
The Deal: Metro in Colaba is offering a flat 70 percent off on its in-house shoes, and a 40 to 50 percent off on international brands.

For Some More Fashion: Zara, Multiple Outlets
Zara's an obvious choice for all Appreciators of Fashion, and we're sure you've found yourself guilty of wishing for discounts! Well, you're in luck. Zara's end-of-season sale is one we've been waiting for. They've got up to 40% off on selected products at all outlets, and you can be sure they're running out fast.
The Deal: There's a 50 to 80 percent off on most of the range, shoes and accessories.
For Bags: Esbeda, Multiple Locations
We all love luxury handbags. However, the only thing that deters us from hoarding them is the heavy price tag. That's why we wait for sales like these. Esbeda, a popular luxury handbag house, slashing down its prices to almost half. A popular brand for quality handbags, clutches and chic purses - especially leather ones - they're is offering bags at half the prices off for their loyal fans and bag lovers.

The Deal: There's up to 20 percent off on bags, purses and wallets. But that's not too bad, considering the fact that its ESBEDA.
For Home Decor: Pure Living, Malad
Floral embellished cushion covers, contemporary styled planter, Moroccan themed cutlery- their luxury collection is worth exploring. This popular home decor boutique is slashing down its prices on selected products. So, if you're looking for a royal revamp to your home, pick up something from their sale section which includes dinnerware, home accents, lighting etc.

The Deal: There's 30 to 50 percent off on selected accessories and home decor items.
For Beauty: The Body Shop, Multiple Locations
Our favourite and a go-to outlet for all beauty and makeup products which are amazing, cruelty-free and which smell really really good! They have multiple offers running both on their online and offline store. They have flat 15 percent off on a selected range of products. However, this one's only for members. Not a member? There's something for you as well. Get 10 percent off on purchase of any four products from their skincare, bath and makeup collection.

The Deal: 15 percent of on selected range of beauty products
For Sports Goods: Nike, Multiple Outlets
From running shoes to caps and from chic to comfy clothing - this one's has always been a bae for sports enthusiasts. Bag their selected products from their multiple outlets around the city.

The Deal: There's upto to 50 percent off on selected sports goods
For New Parents: Mothercare, Multiple Outlets
Welcoming a new member in your family? Then Mothercare is for you. This British brand specializes in products for mothers who are expecting, newly born infants and kids up to eight years old. From pushchairs and strollers to baby toiletries and from cute cotbeds to disposable bibs - they have it all.

The Deal: There's up to 50 percent off on mother and babies care apparel.
For Men: Oxemberg, R City Mall
Launched under the Siyaram's group, this brand is ideal for men looking for chic formals, trendy casuals and contemporary fashion. Making use latest technology, designer's expertise and innovation, Oxemberg is here to put an end to all your wardrobe woes. Well, if you have bulk shopping in mind, their sale offer is something that might interest you!

Deal: You can Buy 2, and get 2 free on men formals and casuals. And apart from that, there's a 50 percent off on men's tees.
Ask Shalvi a question