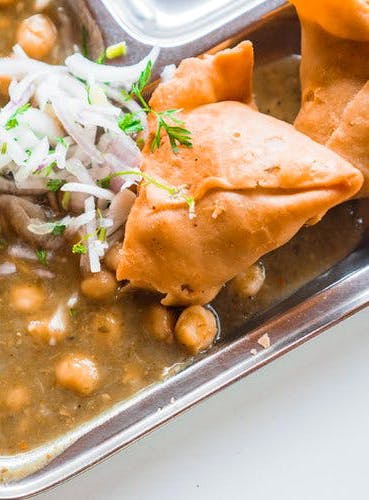 Chhole Bhature, Anyone? Five Mumbai Eateries That Delhi-Lovers Have To Hit Up
Delhi, famously known for its street-side food, is where you can find the best kathi rolls, chhole bhature, chaat, sweets and a lot more. Finding top-of-the-line lip-smacking and appealing chhole bhature in Mumbai is quite difficult, but some eateries bring to you the typical Delhi taste in their food. Here are some of our favourites which will definitely give you hunger pangs.
Cream Centre, Chowpatty
Want to know what paradise is? It is treating yourself at Cream Centre. This eatery serves you the best chole bhature. The finger-licking pickles and buttery chhole with two fluffy, steaming bhature are just what the stomach needs. Cream Centre has also won awards for this dish. Foodies, listen up! they are also known for their top-notch cheesy and creamy nachos. A meal for two here will cost INR 1,600.
#LBBTip: Also try their Punjabi samosa, onion rings and sizzlers.
Guru Kripa, Sion
Guru Kripa is a legendary restaurant started in 1975. Serving the scrumptious street-side food, South Indian delicacies and fast food, this place is also known for its delightful serving of chole bhature and chole samosa. Particularly popular for its samosas (because it has a secret recipe which nobody has been able to replicate). A meal for two here will cost you INR 350.
#LBBTip: Also try their gulab jamun, sweet lassi, tikki chole and Sindhi breakfast delicacies.
Gulati Sweets, Mahakali
There are days when you want a change in your routine, and for those days, there's Gulati's. It's a very busy outlet. Make sure you have a good appetite before visiting this eatery. It's not only famous and known for its sweets, but also for its amazing street food! They serve the very luscious chole bhature with lip-smacking pickles which completely resemble Delhi's make. They also manage to make very good kachoris, which are also a must-try when there. A meal for two here will cost you INR 200.
#LBBTip: Also try their lassi, jalebi, samosas, and mawa sweets.
Shree Chole Bhature, Mira Road East
Perfectly cooked, succulent chole served with a single, huge bhatura for just INR 70. As the name of the place suggests, chole bhature is their signature dish and the best offering. Shree Chole Bhature offers a huge variety of other North Indian dishes too. The eatery is not overwhelming or fancy, but is more like a chota packet, bada dhamaka. This place is a complete value for money spot and a meal for two will cost you INR 350.
#LBBTip: Also try their palak khichdi, buttermilk and stuffed paratha.
Oye Kake, Fort
Oye Kake is not only Punjabi by name, but also by its approach. It's more like an Amritsari dhaba with colorful and elegant interiors. Punjabi songs and captions written in Punjabi are just some of the highlights of its interiors. It's a perfect place for finger-licking and fulfilling chole-kulchas. A meal for two will cost you INR 800.
#LBBTip: Also try their tandoori stuffed parathas, gulab jamuns and dal makhni.
Comments