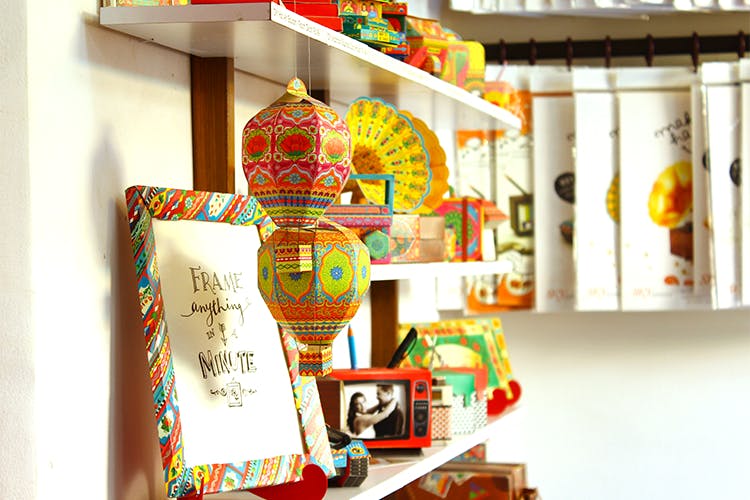 Quirky To Quintessential: Our Guide To Gifting This Diwali
If we had to associate one word with Diwali, it would be gifts. As easy and beautiful as receiving gifts are, let's just agree that to get some, we also have to give some and gifting is often the biggest dilemma there is during Diwali. So, while the Diwali lists are being made, sweets are being ordered, homes are being dusted clean, and rice lights are getting serviced to work, we thought of helping you out with our list of gifting options (makes your life simpler, doesn't it?) keeping in mind the budgets, likes and dislikes, age groups and other factors that need to be taken care of.
For The Love Of All Things Quirky
Mora Taara
Move over your usual diya stands and mithai boxes, we found some really quirky gift ideas to add splashes of cute to your home. Pick up wall plates with ethnic and millenial motifs on them, from Mora Taara. They also have a wide range of artefacts that have been handcrafted to perfection. And besides that, there are lanterns and mirrors too, that serve as a great gifting option.
Shell Out: INR 1,000 onward

Kulture Shop
We're in love with the cushion covers from the Kulture Shop. They've also got notebooks, mugs, tees, coasters, posters, and bags, that all have graphics printed on them, The graphics are made by artists and is a great platform for them to represent their work of art.
Shell Out: INR 795 onward
Sky Goodies
Sky Goodies is an arts and stationery shop that primarily promotes do-it-yourself (DIY) and their hot air balloon DIY kits are apt for decking up that tiny corner of your living room. They've also got mini typewriter and gramophone kits, along with matchbox-shaped or Nomad-themed notebooks.
Shell Out: INR 500 for a kit (with pre-cut paper and a guide book)
For The Die Hard Desi Fans
Natraj Market
If you're looking at getting Diwali ready in an instant, you must head to Natraj Market in Malad West, just by the railway station to find the one-stop solution to all your festive shopping woes. From decorations for home to suits, sarees and gorgeous accessories for yourself (or to gift), you will find everything here. Natraj Market is to the suburbs what Manish Market is to SoBo. It is actually a building that houses many shops and stalls selling clothes, accessories, footwear and more at very affordable prices. There's artificial jewellery, casual and designer kurtas, sarees, lehengas, diyas, wall decor and much more that the market houses.
Shell Out: INR 1,000 onward

The Bombay Store
If you're willing to spend a little (for the festive spirit), then you can also check out
The Bombay Store
for their India-inspired collection that can make for very memorable gifts. We loved the elephant-themed shot glasses and a brass work rickshaw that is bound to look kickass on your side table.

Shell Out: INR 2,000 onward
Desi Archies
The moment you enter the store, you'll be greeted by a colourful range of kettles, notebooks and show pieces. If you move towards the end of the store, you'll notice the super cute desi shot glasses, tea sets and cushions, all apt for surprising your friends or fam during Diwali. Do not miss their incredible collection of drawer chests. They are perfect for storing all your jewelry.
Shell Out: INR 500 onward

For The Love Of Stationery
Apsara Pen Mart
The digital age was meant to put an end to paper, but here we are-still unable to get over pens, notepads, fancy erasers and more! What's a better gift than something that unleashes the creative potential in you? We chanced upon Apsara Pen Mart, the oldest pen store in Mumbai and we wanted to buy them all. There's Waterman, Parker, Sheaffer and even Mont Blanc.
Shell Out: INR 150 onward
Anupam Stationery Supterstore
If you want to surprise someone with a literary bent of mind, you can get their favourite quote engraved, or even write them a special message. Anupam Stationery Superstore in Borivali also has options that they will never get tired of showing repeatedly. We picked a yearly planner for just INR 499. Steal deal, isn't it?
Shell Out: INR 500 onward
Arsya
Deny it as much as we may, we all love bling- be it just for a party in the evening or wearing it through the day. Bling is that thin line between your dressing sense falling flat and or looking fab. And a little bling will only amp up the festive quotient. We found Arsya Jewellery in Bandra that is home to a varied range of earrings, neck pieces, chokers, bracelets and more.They are known to customize jewellery pieces in just two hours.
Shell Out: INR 750 onward
Jewel Gallery
Jewel Gallery is a designer boutique and a paradise for jewellery lovers in Lokhandwala. There are sections for diamond jewellery, kundan, antiques, pearls, semi-precious stones, enamel jewellery etc. For instance, at the start, you'll find an entire section of their hand-hammered gold jewellery collection. Being lightweight and chic, these precious darlings are good to go for almost every occasion – from daily wear to a party even.
Shell Out: INR 2,000 onward
Comments