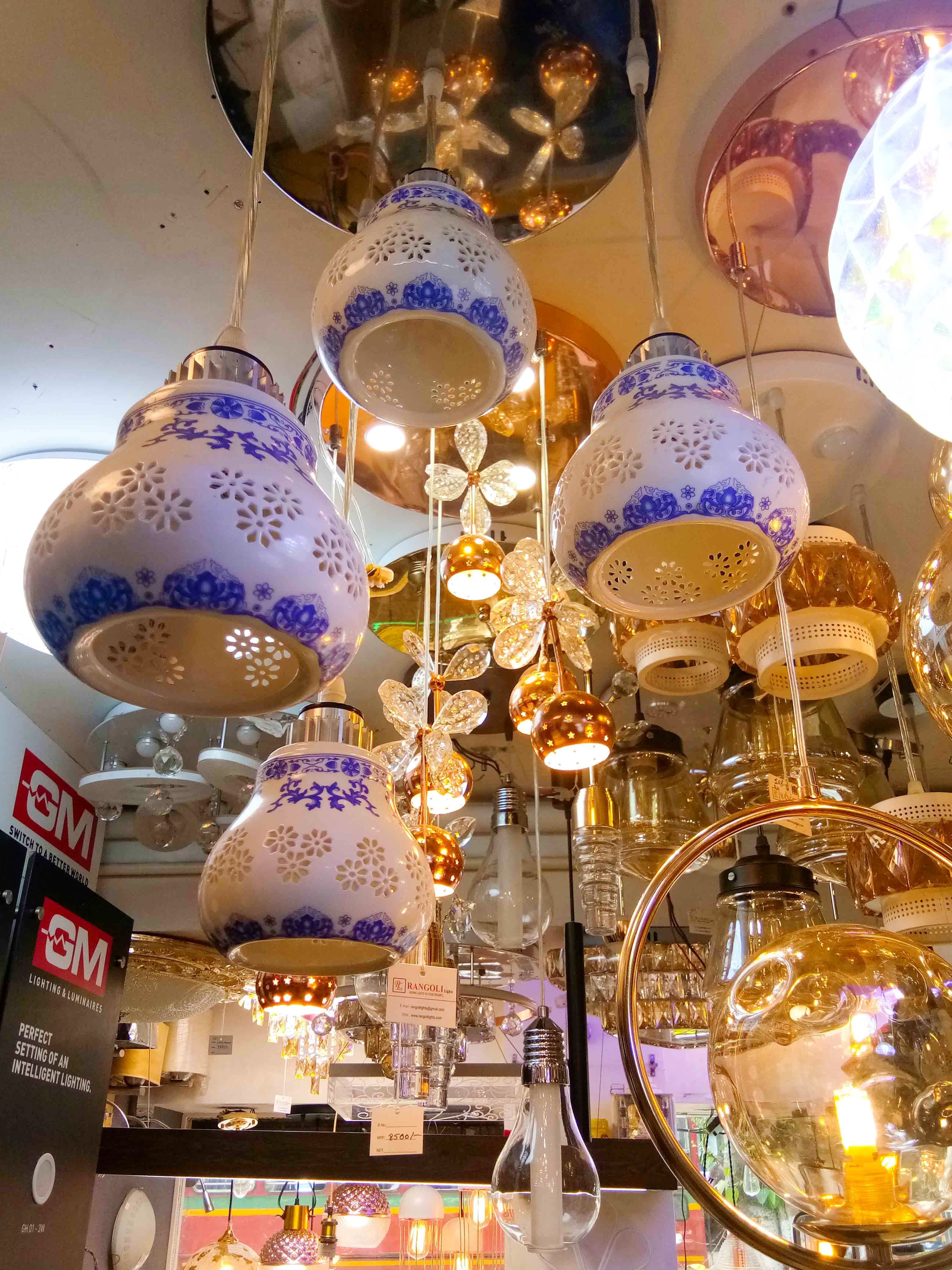 We Went On A Light Trail At Andheri's DN Nagar And It Left Us De-lighted
We've seen the best of lights at Crawford Market's Lohar Chawl. But what if we tell you that our new found discovery is better than the best? We raided a whole stretch of light shops in Andheri West's DN Nagar and we're convinced that you will fall in love with all of them too.
Nagrik Lights
It is the biggest out of all the seven stores we crushed on and has the best chandeliers. Located opposite to the D.N Nagar police station, this one glows in the night and attracts a lot of passersby. You cannot be crossing that area and not stop by to enter their store. Go for their table lamps, customized umbrella lamps, and colorful hanging bulbs.
Price: INR 3,000 onward
Rangoli Lights
On entering Rangoli, we spotted a wooden table lamp with colorful seashells on it, and we knew we're at the right place. They customize those for you, for INR 3,500. You could also go for their caged lamps in white, with colorful thread balls inside. They enhance the look of your living space and how! They have a quirky white monkey holding a bulb on its hand which we think would be really worth the buy if you want to play around with aesthetics in your abode.
Price: INR 2,000 onward
Glowain Lighting And Interiors
Now this one has Persian lamps to die for. Their traditional designs will blow your mind away. They've got hanging lamps, hurricane lamps, and very quirky rectangular chandeliers that you can invest in.
Price: INR 4,200 onward
New Light
Creators of awesome nameplates, hanging lamp posts, and cane lamps, New Lights is easy on the wallet and in case you're looking for small side lamps and lights for a tiny corner of your room, they're a good choice.
Price: INR 569 onward
Lightique Concept
When it comes to architectural and concept lighting, probably no one does it better than Lightique in this stretch of light shops. From blingy disco ball lighting, and hurricane lamps, to Persian and peacock lamps, they're slaying it and how. We'd suggest you buy one of their beige disco ball light. It's the right kind of blingy, with a dollop of elegance.
Price: INR 5,000 onward
Light Area
This one has colorful round lights, and cycled-themed lights that can give a whole new look to your house. They're also an expert in Persian lights and you will want to buy them when you see them. Also, don't miss out on their minakari lamps.
Price: INR 1,500 onward
Comments