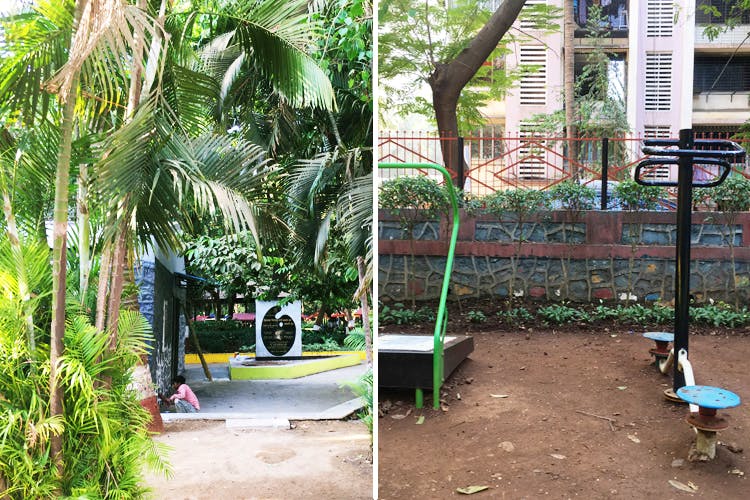 Open-Air Gym, Fresh Air And A Whole Lotta Greenery At This Andheri West Park
Shortcut
Andheri West folks, if you haven't been to this beautiful park in DN Nagar, then you ought to. Pridarshani Udyan next to the DN Nagar metro station is green, offers a free gym and is really well-maintained.
Work Out For Free
The DN Nagar park is an oasis of greenery amidst the dusty roads on Andheri West and the never-ending blaring noises from the constant traffic. Right next to the Metro station, enter the park and find yourself transported to magical Narnia sans all the snow but carpets of green flora.
The park was renovated recently, and some bits of it are still on-going. With its long intertwining path perfect for joggers and walkers alike, mornings and evenings are absolutely lush here. Every corner has been indented with tall trees, plants and bushes and the paths are lined with shaded area meant for people who just want to sit and relax. The entry is free, and anyone is welcome here.
What We Love
The feeling of finding ourselves in a very Delhi-like park – spacious, bright and well-maintained. One side of the park also has a free functioning gym with at least five sets of gym equipment installed for the benefit of the public. It's an added incentive for people to come out for fresh air and work out in the open.
We came across elderly aunties of Andheri working out at the cycle, and for them, it's a regular routine. Inspiration for us younger lot? Hell yeah. They also have swing seats next to the walking path for when you want to peace out with your books. Find students practicing their dance moves here often, along with brisk walkers on a mission to finish their distance on time.
So, We're Saying...
The DN Nagar Park is a lovely hidden gem in Andheri West, and we're letting it out for the public good.
Comments