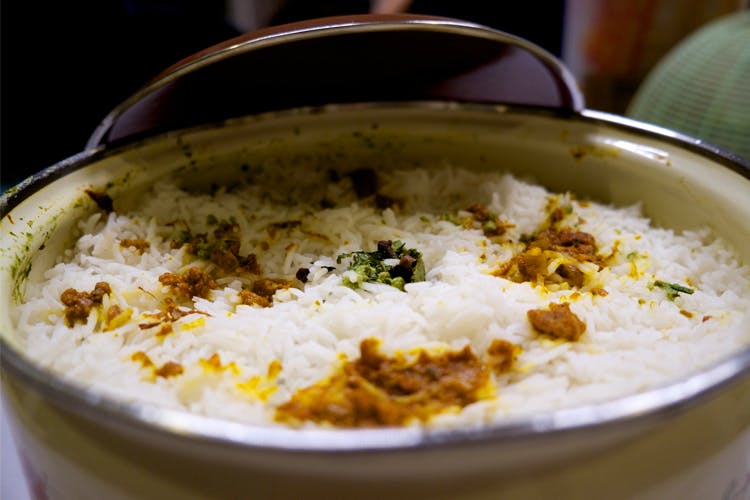 Keema, Prawns And More: Where To Eat The Pulao You Won't Find In A Restaurant
Shortcut
Some of the most delicious food in Mumbai isn't available in restaurants. This beautiful combination of prawns, keema and green chutney in pulao by home chef Perzen Patel is one of them.
What Is It?
Surf 'n' Turf is typically, a phrase used to describe the indulgent and often unnecessary pairing of steak with seafood. It's a phrase that chefs love using on their menus, as it's an easy way to charge even bigger money for already big-ticket items. But Perzen's version is very different. It combines underrated ingredients such as fried onions, leftover kheema, prawns, rice and green chutney (all ingredients always available in any self-respecting Parsi home) to create a pulao so comforting, that it'll probably induce tears of joy. For Perzen, the genesis of this dish strangely began in New Zealand where she sampled the mother dish, Rainbow Pulao at a Parsi wedding feast. The dish's name came from the seven elaborate layers of rice, meat, fish and condiments that mimicked an actual rainbow.
Where Do I Get It?
Over the years, after sampling it at a few more weddings feasts, consulting numerous aunties and recipe books, Perzen perfected her own version and now serves it on request as a part of her menu at the Bawi Bride. Cost: INR 450 a plate, which serves two. Timings: Monday to Sunday, 8.30am to 3pm Call: +919819285720. Orders must be placed two days in advance.
Comments