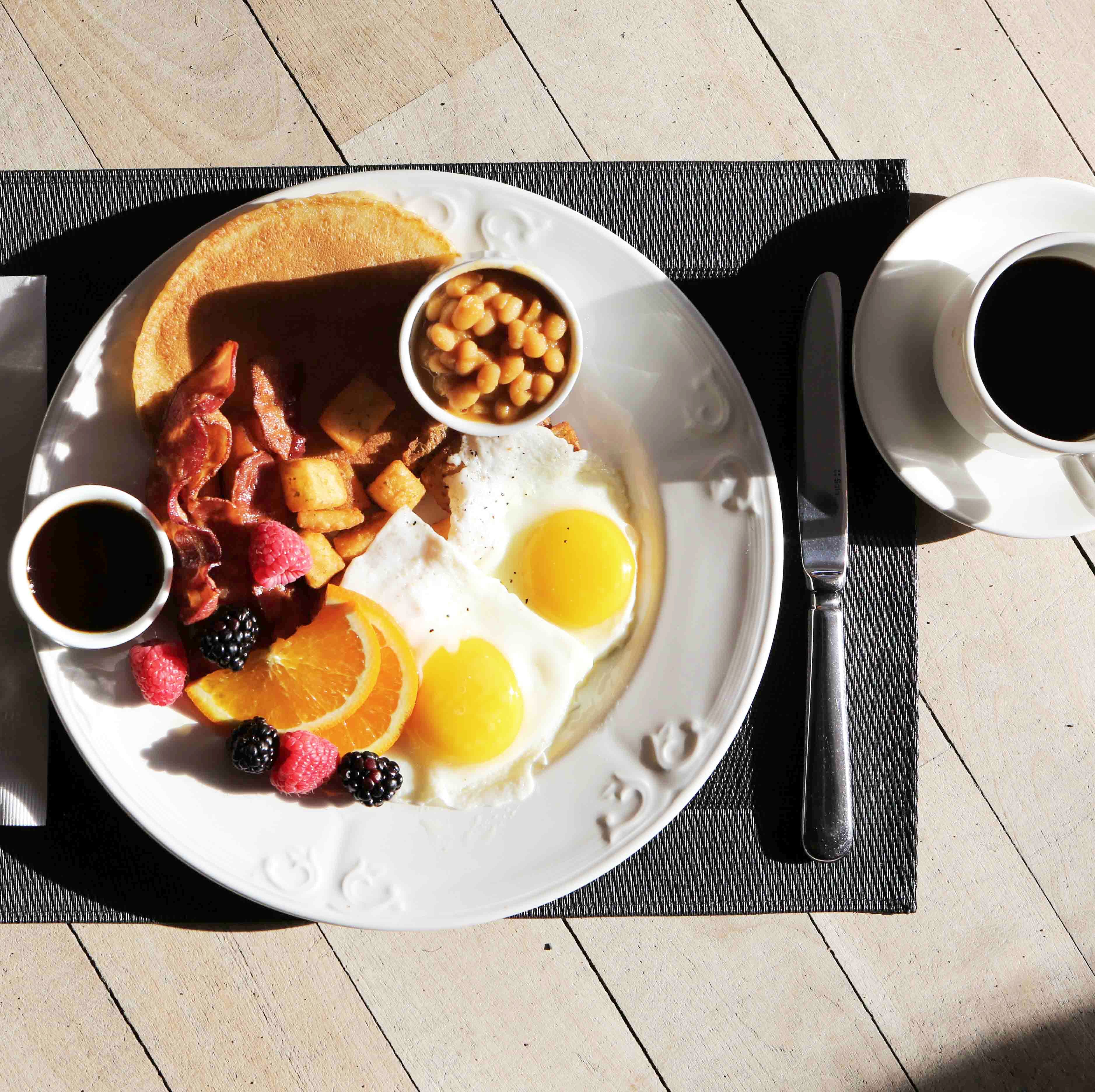 Bacon, Eggs And More: Where To Have An Epic English Breakfast In Mumbai
The best colour palette on a plate - The reds of the baked beans, the yellow of the sunny side up and the pink of the bacon. Lovely. Here's are our top picks for English breakfast in the city.
Theobroma
The undisputed winner of perfectly done bacon, sausages, hash browns and loyalty. You can devour a plate of their English breakfast at any of their outlets. At INR 275, they will have you questioning your eating capacity.
Poetry By Love And Cheesecake
This is the place you go to on a Sunday morning for a planned brekkie date/outing.Their English breakfast will keep you feeling light, surprisingly. Sausages, sunny side up and hash browns with a hint of green, you'll need bacon to keep you fuller. And their bacon is fat-free so, feel free to order two portions. It's priced at INR 700 (without taxes.)
Bombay Coffee House
The all-day breakfast served here is A+ (for the herbivores and carnivores alike.) For the indulgent breakfast person, go for the King's breakfast (INR 575) which includes your typical English elements-hash browns, eggs, tomatoes, baked masala beans with a side of toast and a choice between juice/coffee or tea. They offer eggs Benedict, English breakfast, bowl of porridge and poha as well.
Brunch 'N' Munch
This Malad eatery will spoil for choice with pork, sausages, bacon, salami to choose from. Served with hash browns and baked beans, it's priced at INR 300. Besides the English breakfast, they also serve other variations plus eggs to order your way.
Aroma's
This prominent eatery in Powai reinstates our faith in the power of breakfast with their loaded English breakfast that goes by the name 'Big Breakfast'. At INR 409, it'll make you question your ongoing diet buy hey, weekends are supposed to be lax.
Le Pain Quotidien
This authentic French restaurant is one of those cozy, elegant breakfast spots we reserve for special days (and dates.) Visit for the freshly baked croissants, pastries, muffins and brioche that are baked daily. But their English breakfast (The Farmer) is worth all the money, because not only is it soul-satisfying, but also some of the loveliest breakfast fares (INR 325 onward) around town.
Coffee Culture
Drop by as soon as they open at 8am and get yourselves a filling meal for less than INR 295! Order yourself an English breakfast that comes with eggs, hash brown, toast, baked beans, sausages and juice. In fact, you can totally skip lunch after this meal because it keeps you up and going for that long.
Comments