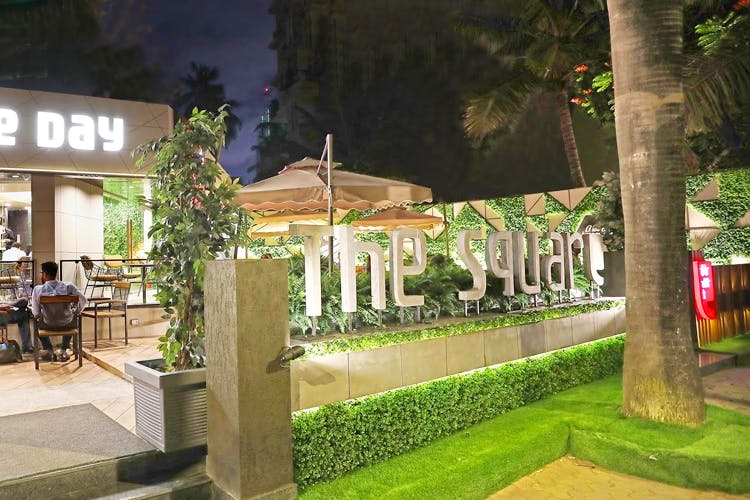 A Global Culinary Feast And Coffee Delights Await You at Café Coffee Day's Flagship concept, The Square
Shortcut
Want to take Bae out for coffee but don't want it to be so casual? We've found you the perfect solution - The Square, the newly launched flagship concept by Café Coffee Day which promises to be a true fine dining experience. The Square offers an unparalleled gourmet experience for consumers. It caters to the discerning Indian diner who is well-travelled, open to new experiences and constantly evolving their culinary taste. Read on to know all about their lip-smacking menu!

Coffee Heaven
Coffee connoisseurs, we've got good news for you! The menu at The Square is full of the finest selection of coffee including fascinating innovations like Espresso Express – shots of espresso with flavours of rum and tequila, topped with milk foam and Smoke-it-up Cold Brew – a mysterious, mandarin-flavoured cold brew which comes in its own blanket of smoke. These two drinks are a must-try! There is also a huge emphasis on Alternate Brewing techniques like Siphon, Pour Over and French Press. Each method of brewing emphasizes a particular taste profile. In the unlikely event that you're not a coffee fan, no need to fret! The vast menu also offers a selection of beverages made with the latest wellness ingredients like avocado and chamomile. No matter what beverage you decide to order, you'll be sure to find the perfect balance between wellness and indulgence.

Food For The Soul
The food menu consists of signature meals, flavoursome bites and spicy-sweet treats, all curated with a creative flair and passion. While some options are part of an extensive range of breakfast, lunch and dinner variants and are time-specific, there is a separate section with caters to all-day diners who crave for mouth-watering options between meals. We would totally recommend trying the Caprese Caper – an open sandwich with basil pesto, bocconcini and tomatoes with baby potatoes on the side and the Pani Puri Twister – a traditional favourite, stuffed with potato cilantro mix and served with tequila-flavoured water. Innovation at its best! Got a sweet tooth? You'll fall in love with the Cocoa Excess Shake which is overloaded with a chunky brownie, crunchy cookies and colourful gems. We're already drooling!

Awesome, How's The Ambience?
Imagine sipping the finest coffee brews while watching the sunset on the Arabian sea! This gourmet hub located at Carter Road in Bandra is visually and aesthetically appealing and has minimal design.

So, We're Saying...
If you're in Bandra, this place is a must-visit. The ambience combined with an excellent selection of food and beverages is definitely worth checking out! Head over now to immerse yourself in haute, innovative and unique gastronomic experience.

More Information
The Square By Cafe Coffee Day
Comments