The information in this post might be outdated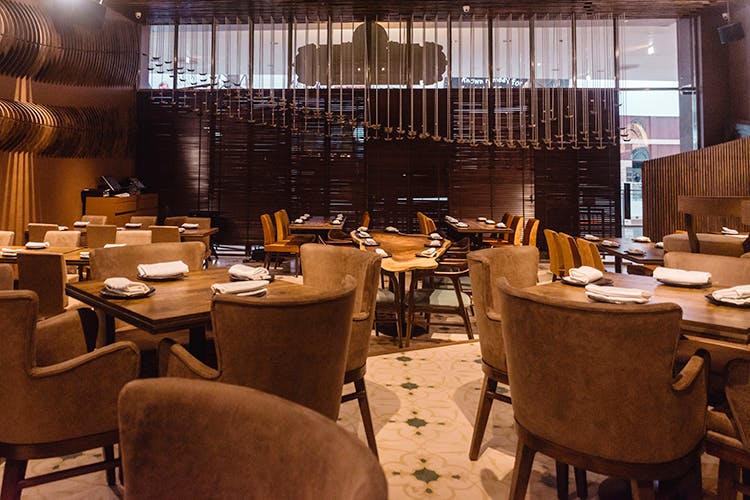 High Ceilings, Warm Lighting & More: This Popular Restaurant Has Made Its Way To Goregaon
Shortcut
We've always loved Farzi Cafe for it's delicious, progressive Indian food and innovative drinks. And we're happy to let you know that their newest outlet has opened in Goregaon, here's why we love it.
Tell Me More
If you've always been a fan of the food Pa Pa Ya, Masala Library or Farzi Cafe, you will be a happy soul. Farzi, as it's popularly called, has made its way to Oberoi Mall, Goregaon and there's no way we're not going. At this outlet, look forward to some amazing preparations such as Ratatouille Gujia, Imli Sweet Chilli or Mushroom Falafel Donner and more for the vegetarians, and Mutton Masala Lukhmi, Sweet Ginger and Mint Chutney or Guntur Chilli Chicken for the carnivores. Those looking to go all out, don't kill yourself and dig right into everything- from Mutton Irachi Pepper Fry and Malabari Parantha and slow cooked Baby Lamb Shanks to Matka Cholle, Lucchi Puff or Farzified Missal Pav. There's Parle G Cheese Cake, Rasmalai TresLeches, Bailey's Lollipop in desserts, the menu showcases the cuisine's strength and robustness, while being bold at the same time.
There's, of course, plenty of alcohol- domestic, IMFL and some extremely potent cocktails.
Anything Else?
The space is fairly big and well lit. It's spacious and the interiors are dominated with dark wooden chairs and tables and beautiful yellow lights. The high ceiling naturally adds to the beauty of the place. We think this restaurant is perfect for date nights or large outings with the family. A meal for two gere will cost you approximately INR 2,000, and we say it's totally worth it.
Comments