The information in this post might be outdated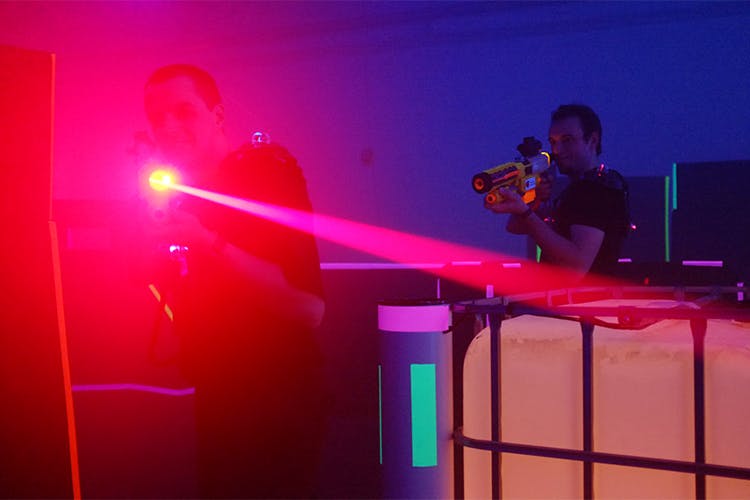 Bowling Or Laser Tag: Where Are You Taking Your Dad This Father's Day?
Fathers are the ones who cradle you from a distance, are when you're low, they try their best to cheer you up in ways only they understand, but nonetheless, they're the cutest and only deserve the best. So, no matter what type of dad you have, here's something to celebrate that special day together.

For The Kid-At-Heart Dad
Although he's a grown up, he's still a kid at heart and loves to spend time with you doing fun things together. Just for him, plan a day that involves laser tag at What The Fun or even a fun bowling evening. And if he's into fast things and speed, how about a trip to Powai to try your hand at go-karting or zorbing together?

For The Sentimental Dad
If your dad is the type to reminisce about the good 'ol days, you can make his Father's Day experience full of history and culture. You could decide to do a heritage walk across certain parts of the city, that explores the nuances and details of your city. If he's a fan of certain restaurants that have held their fort for many years, may we recommend going to a Britannia and co for authentic Parsi food? Or maybe Sassy Spoon for Italian flare. After a good meal, you could even visit some of these historical monuments in the city. You see, the key lies in the details.

For The Sporty Dad
Is your dad is the type who wears his jersey every time his favourite team is about to play? Or, the type who knows all his stats by heart and can still beat you at a challenge round? Well, we've rounded up a list of some Indoor Games you can play with him since the monsoon has hit the city.

For The Foodie Dad
If delicious meals pave the road to his heart, you could surprise him with cooking classes in the city, whether he loves to just cook or even try his hand at something new, like baking. You could also do a brew trail across the city, and for that, we have just the right guide for you. Also, don't forget to try these restaurants out, that are sure to make a special day even more memorable. You could check out some amazing outdoor restaurants in the city or if you want to have a great start to the day, enjoy some good brekkies in the city together.

For The All-Rounder Dad
If your dad loves music, he can learn how to play the piano with ease, or if you want to surprise him with his favourite musical instrument, here are some stores you can visit. If he's a philanthropist and wants to help out, these charities are some places you could suggest. But honestly, no matter what type your dad is, he's going to appreciate your gesture no matter what, so have a blast!

Comments