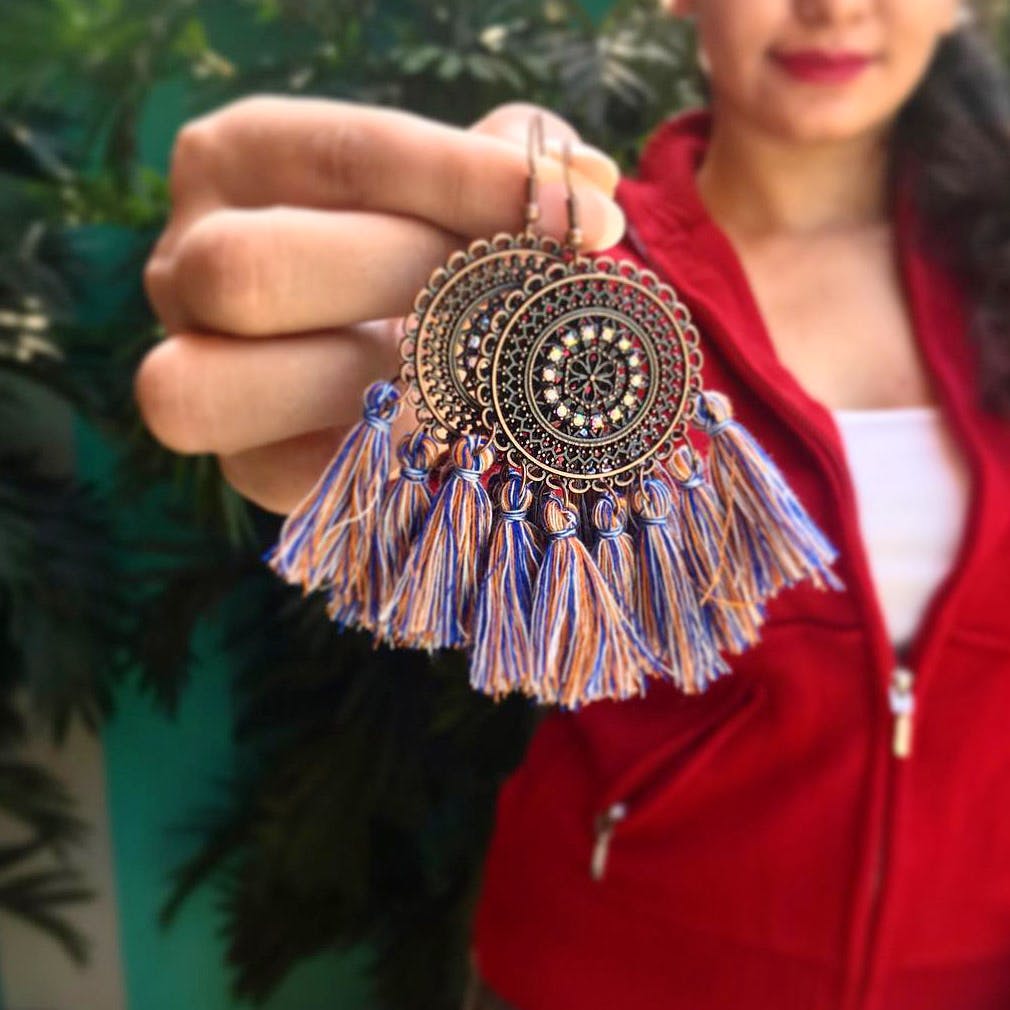 Five Wardrobe Must-Haves If You're Heading To A Music Festival Soon
When music festivals announce their artist line-up for the musical extravaganza coming our way, it is time to look at the perplexing task at hand: clothes and accessories. Here are eight things that we think you should absolutely pack your bags with, when you take off to watch your favourite DJs to drop that bass.
Boho Chic Clothing From Mela
If Coachella is your inspiration, we think you'll love to rock the boho vibe yourself! Mela, a vintage and boho clothing store in Andheri is a great spot to pick up statement jackets, flowy dresses and quirky accessories sourced from interesting locales and curated by owner Dilip Mehra. Frequented by celebs like Alia Bhatt and Ranvir Singh, this store is your go-to for one-of-a-kind pieces you won't find elsewhere.
Distressed Denims From 1969
Nothing adds a bit of a bite to your wardrobe like a great pair of distressed denims. And if you love to shop local and bypass the regular high-street brands, 1969 is a great place to start. The indie label shines the spotlight on Indian-created clothing and denims from jeans to tees and shirts for a great casual look. Who said style and comfort couldn't go hand in hand!
Boots From Kobbler
We love ourselves a great concert - who doesn't - but what we really don't love is getting our toes trampled on! Boots are a stylish way to fix that problem. Kobblers in Bandra is a store that specialises in custom-made boots, loafers and formal shoes too. Whether you're looking for ankle-length boots, work boots, or hiking boots, they've got something for you.
In case boots just aren't your style, Fizzy Goblet at Palladium has a beautiful collection of joothis and sliders in a variety of styles and quirky designs that are sure to add that little bit of something extra to every outfit.
Handmade Accessories From Accessory Funk
Accessory Funk in Ghatkopar is a local boutique that specialises in a variety of hand-crafted accessories created by founder and designer Radika Bhatia. Their hair accessories add just that last bit of sparkle to complete your outfit. We especially love the head chains and flower wreaths to bring out the flower child in you.
Funky Belts From Unique Belts
Who doesn't love a stylishly cinched waist? At Unique Belts, a hidden gem on Hill Road, we found a wide selection of chic and funky belts at bargain prices. From bold lace-up belts with floral embroidery to metal belts with butterfly designs, their collection is diverse and sure to add a little bit of extra pizzaz to any look.
Comments