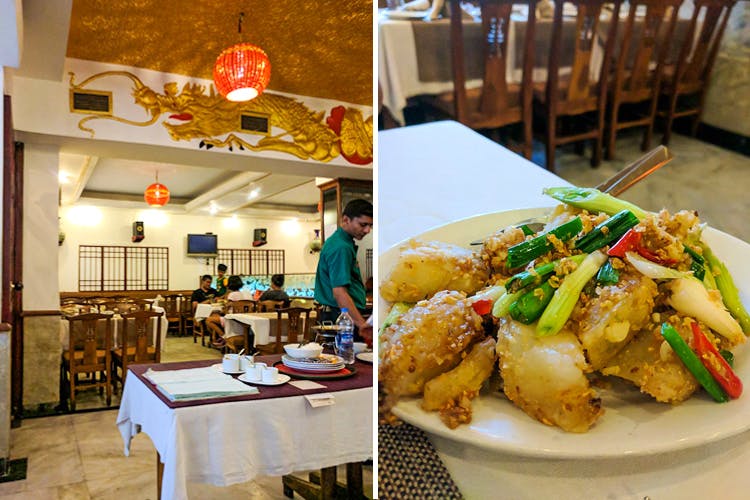 The Oldest Chinese Restaurant In Mumbai Is Shutting Down Soon & It's Time To Pay Homage
Shortcut
Worli Naka is full of a lot of hidden treasures but there's one absolute jewel that has stood out for us. Flora, Mumbai's oldest Chinese restaurant, known by all the cabbies of Mumbai, and everybody else too, for that matter, is shutting shop in less than a fortnight.
What Makes It Awesome
After reports of its impending closure on August 31, we look at what makes it so good and why you should pay it one last visit.

When we visited it, the waiter, a friendly chap who was quite happy to chat, served us some chilled water. When we poked and prodded a bit, he told us that we'd come to the oldest Chinese restaurant in the city. We looked up, excited. Oldest? Yeah, 53-years-old this year, pat came the reply.
We flipped through what all it had to offer and looked around. It's a big space, with tables quite close to each other, so you basically get to hear wearied souls talk about their rough day at work. But, the walls have golden dragons emblazoned on them, and you'll find Chinese lanterns and paintings decorating the ceiling and walls.
Crazy Pho It
Flipping through their menu, we decided to go for something cool to drink (you can take a wild guess here), two starters and the main course. And dessert. We tried their wantons, the fried variety, which was crispier than anything else but delicious in the middle, and their corn curd.
The corn curd (it's like corn batter mixed with curd and then fried – I mean, what could possibly go wrong here) was just marvelous, with hints of garlic, seared spring onions and bits of fried batter that had some delicious spices mixed with them. Their portions are pretty large, so it's definitely value for your money.
For the main course, we tried their Chicken Pot Rice, a favourite of ours in certain places. We expected the quantity to be big, but it was splendid when it came to taste as well. So, it's basically sticky rice with different types of mushrooms and chicken slow-cooked together. We also sampled some of their pepper chicken and their chow chu prawns, totally recommended by us and all their patrons.
Thoroughly satiated, we decided to grab some dessert. Some fresh mango with ice cream and their classic Chinese Darsaan (honey noodles with vanilla ice cream) were perfect and tasted like heaven.
Pro-Tip
Seen in a lot of Hindi films (Chhoti Si Baat), a lot of patrons also have talked about how this place was a favourite with yesteryear film stars.
For us, it was an experience much beyond just food. So, if you're craving some delicious Chinese and want to experience an old bit of Mumbai, served on a plate, pay homage to Flora Restaurant one last time.
Comments