The information in this post might be outdated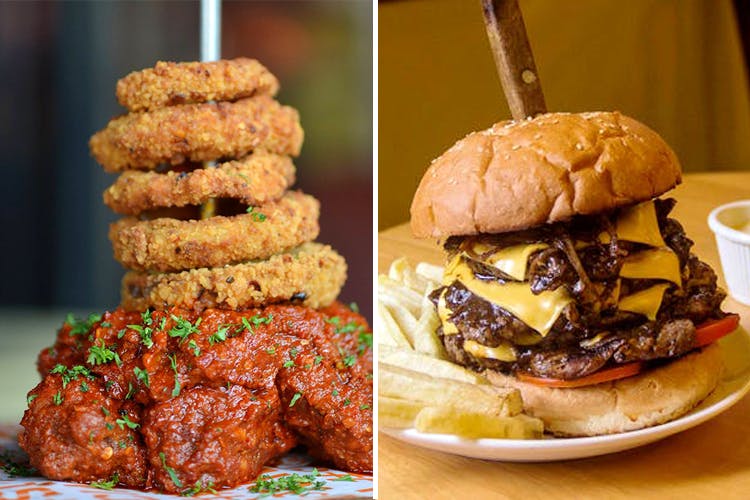 How Many Eating Challenges Can You Win From This List?
When we would watch the show Man versus Food on television, we would marvel at how the host Adam Richman would travel across America to win competitions made up by restaurants to become the 'next food champion'.
Well, in Mumbai an American portion may seem like a genuine challenge by itself, but having said that, sometimes restaurants open up challenges that give you serious foodie goals.
Frisbees, Bandra & Andheri
This tiny but quirky joint is cosy and serves some pretty awesome burgers. It also has a blackboard with discounts mentioned and what caught our eye was this one – finish the burger you've ordered without spilling on the plate, and you get the burger for free. Then, there's another one – If you lick your plate clean, you get a discount.
Death Wings At Social
Well, as the name suggests, the Death Wings are a food challenge a brave few take up at Social. As the menu describes, Death Wings are 'deadly hot chicken wings'. All you need to do is finish it off without any water to win the competition. And yes, there is a disclaimer: Free lemonade for anyone who finishes the damn thing!
Hogathon Challenges At the Little Door
Well, they used to have an XL Burger challenge that involved finishing a nine-layer burger in three minutes in exchange for beer for a year. Now, this Veera Desai Road joint has a 'Hogathon' challenge every two months where they organise different eating competitions in exchange for prizes. You can check out their Facebook page for updates.
Pizza, Pasta, and Burger Challenge at Light House Cafe
It's a simple challenge, actually. Finish the pizza, pasta, burger and win prizes. The catch, the pizza is a Chicago-style pizza that is completed in 20 minutes to win INR 2,500 in gift vouchers. While that sounds easy, it's not. The pasta is called Spicy Pasta and you need to finish it in five minutes to win INR 2,500 in gifts. The burger is called the Hot Head Burger that needs to be finished in five minutes for INR 2,500 prize. The prizes are all in the form of alcohol vouchers.
Khade Chammach Ki Chai at SodaBottleOpenerWala
Get a real overdose of sugar with the Khade Chammach ki Chai at the SodaBottleOpenerWala in BKC. The chai becomes challenging due to the amount of sugar which makes the chammach or the spoon stand up straight in the glass. The reward? Your name will go up in the hall of fame for completing the task!
Comments