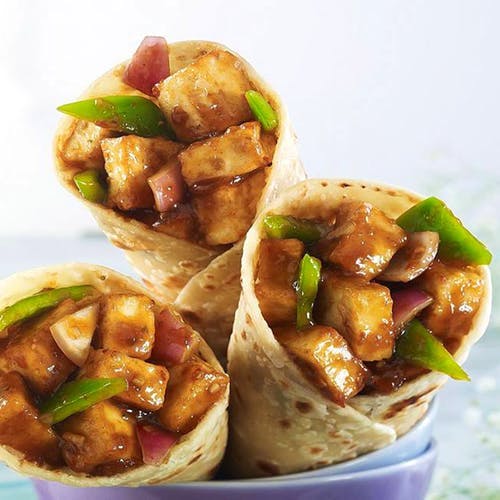 Grab A Bite At These Eateries
We often don't realize while we're at it, but shopping can be really exhausting. While hopping from one store to another in malls may be all fun and games, but the constant check-ins at trial rooms and all the walking around can suck all the energy out of us. But *woot woot* for food courts inside malls, that help us take a break and just unwind over great conversations with our shopping buddies. We were at Andheri's Infiniti Mall and thought we'd tell you about our favourite joints to grab a bite, or a heavy meal at. Check it out!
Tibb's Frankie
If you've lived in Mumbai for long enough, you'd know what this joint means to the city. The succulent pieces of chicken, onions and masala wrapped in that perfect egg roll will blow your mind. Make sure you try the barbecue chicken and cheese frankie if you're looking at grabbing a quick bite from here.
Shell Out: INR 140
WOW! Momo
Momo lovers, get yourself a piping hot plate of their prawn momos, corn and cheese momos, or the classic chicken wheat momos. Though a tad bit more expensive than your local momo-wallahs, the taste's worth the money they charge. Besides, its always a good time for some momos, right?
Shell Out: INR 130
KFC
KFC's a safe place to choose in case the number of options at the food court is making it tough for you to choose where to go to. Munch on their chicken popcorns, and call for a lemon virgin mojito with mint and masalas to quench your thirst, and you'll feel recharged to get back to shopping again.
Shell Out: INR 300
Malgudi, Simply South
This brand, across all malls in the city, has our heart, simply because it serves some soul-satiating south Indian fare that's just unmissable. Go beyond the regular dosas and try a hearty meal of Malgudi style korma with Kerala Parotta, or a mushroom sukka with neer dosa. It's finger-licking good, quite literally.
Shell Out: INR 240
Zaffran
You can dine at Infiniti's Zaffran post your shopping in case you're yearning for some malai tikkas and kebabs and a well-made handi of biryani. Go for their special Raan Biryani with a side of Murgh Afghani.
Shell Out: INR 2,000
Sbarro
If Pizza's your BAE and you're looking to have the whole of it for lunch, there's nothing better than Sbarro. Try their chicken cheese jalapeno pizza, and the signature stuffed pizzas. The taste is going to stay with you for a really long time.
Shell Out: INR 500
House Of Candy
Gummy bears, fizzy cherry cola, rumballs, tutty-fruity unicorn lollipops, and what not. House of Candy is apt if you're craving for something sweet and also want to reminisce your childhood.
Shell Out: INR 200
The Churro Co.
If you have immense love for churros in your heart, park yourself here. Try their Churro Sundae and Fruit Fondue (don't miss them)
Shell Out: INR 250
Yoghurt Studio
For times when you cannot decide on whether you want a smoothie or a milkshake or just plain yoghurt, this joint comes to your rescue. Try their Alphonso mango and blueberry yoghurt for sure. Its so soothing and filling at the same time.
Shell Out: INR 250
Hurrycane
If the heat outside and inside the mall while shopping has driven you insane and all you want to quench your thirst is a fresh glass of sugarcane juice, trust Hurrycane. They've got options in small, medium and large bottles. Take your pick and drink it up.
Comments