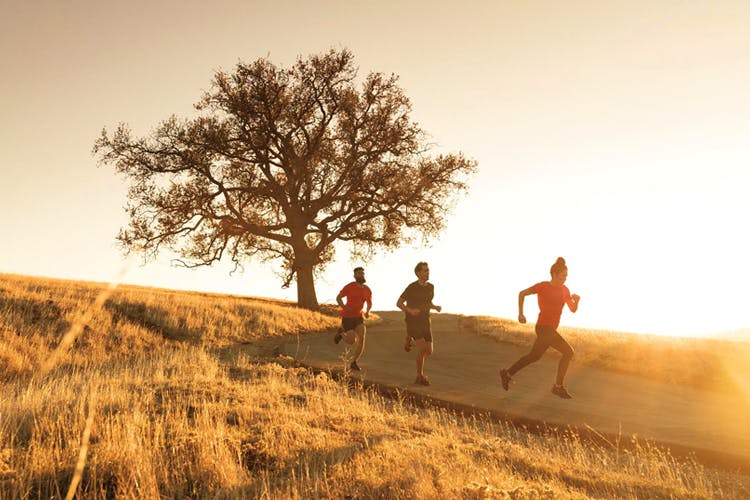 For The Love of Running: Head Out to These Trails in the City For A Perfect Run
Whether you have just begun to run or training for a marathon, we've got you covered with different types of tracks suited for your running needs. And, if you're someone who had always wanted to take up running but could not find the right motivation, maybe these spots will make you want to sprint. Here are the 6 trails to make your running experience smoother.
Marine Drive Promenade
Marine Drive is a 3.6-kilometre-long Boulevard in South Mumbai that will leave you starry-eyed especially if you plan to take a quick sprint across this stretch at night. Its 'C'-shaped six-lane concrete road along the coast, links Nariman Point to Babulnath and Malabar Hill which makes it look a pearl necklace. For you to smoothly sprint through this stretch, we'd say you should confidently pick ASICS METARIDE that are built with a seamless curvature on the sole - perfect for a long evening (or morning) run.
Priyadarshini Park
Priyadarshini Park and Sports Complex (PDP) in South Mumbai is a multifaceted 20 acres manually nurtured garden and recreation centre with an uneven rocky patch of land. You will have the pleasure to jog amidst the trail of large Coconut trees while you experience a cool breeze sea frontal and great sunset view for you to cherish. On an uneven and bumpy track like the one in this park, you should pick ASICS GEL- NIMBUS 21 to easily blend in with those jerky grounds. So, irrespective of whether you go for your daily run or gear up to conquer a triathlon, these high-quality running shoes with overlay for support will make endless runs possible.
Bandstand and Carter Road
Want to kick in the morning fresh air while you jog on 'em narrow paths? You can run miles on those not-so broad paths and create your own route by leaving the promenade and jogging along the road, up Cane Road, past Mount Mary's Church and then down Mount Mary's Hill to Mehboob Studio and back to the start of the promenade section (exciting, right?). You could even consider sprinting on Carter Road promenade along the sea. We say, hit the path with your ASICS METARIDE because these pair of shoes have a comforting sole for you to run on the most solid hard tracks with ease.

Juhu Beach
Fascinated about bumping into a celebrity in Bombae? Juhu is among the most affluent areas of the city and is home to a lot of Bollywood celebrities with an upmarket neighbourhood of Mumbai famously known for the beach. The waves hitting the shore on breezy mornings, makes it essential for a water-resistant pair of shoes that are suitable for quick sprints on that soft sand. ASICS ROADHAWK FF2 will help you run on the sand with ease because of its the seamlessly engineered finish that reduces the friction and irritability on your feet.
Siri Road
Challenge yourself and head to Siri Road, Dadi Sheth Wadi, Malabar Hill for breath-taking (quite literally) yet satisfying run, especially for marathon enthusiasts. All you need to battle it out is ASICS GEL-NIMBUS 21 that will mix and minimize all the bumps and challenges for your feet. So, be it a daily run or an effort to gear up for that triathlon, these high-quality running shoes will overlay for support making endless runs possible.

Kanheri Caves, Sanjay Gandhi National Park
Nuzzled inside Sanjay Gandhi National Park, Kanheri Caves' Jambulmal trail is a consistent attraction of athletes. This windy forest path opens up right next to the caves and that goes up the hill. It usually takes about 2 hours to trek all the way to the highest point. If you've been planning to meditate by being one with nature, then you need to give yourself a chance to take it to the next level with ASICS GT-2000 7. These technologically advanced shoes will make you feel stable and in control through the trail. It even has Jacquard mesh technology to keep your feet cool and sweat free. That's not it, the shoes will adapt to your feet movement, ensuring that you feel relaxed by the end of it.

So, We're Saying…
We know that owning the right kind of shoes is probably the most important thing to a runner. Whether you're a sprinter or a long-distance runner, whether you love running on the hard streets or on the lush paths – ASICS newly launched Innovation in Motion Collection is here to support you all throughout the run.

Comments