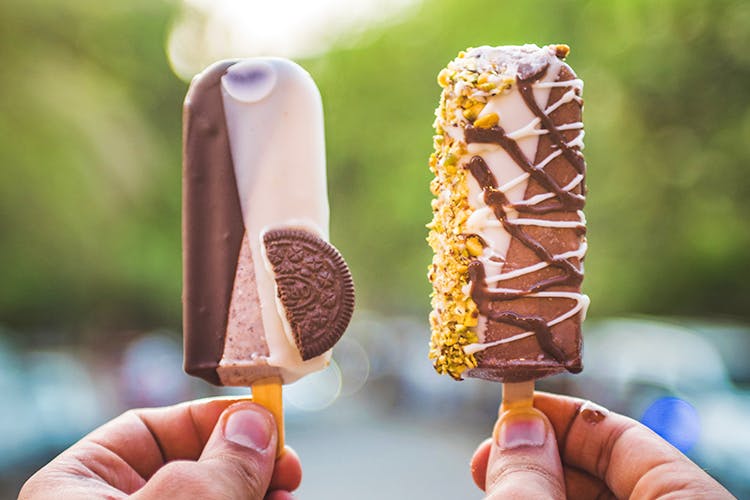 Four Summer Treats That Are A Must Try From Shahi Durbar's New Menu Only At Carter Road!
Nothing will make your day like a nice chilled kulfi on a hot summer day...or a fruity falooda, or a popsicle. Our favorite place to go for such a craving has gotta be any of the Shahi Durbar outlets across the city. Plus, they've just revamped their Carter Road outlet with quirky wall hangings and a splash of colour in every corner. AND, they've also outdone themselves by revamping the menu with more exclusive-yet-scrumptious sweet desi delicacies. You've gotta check it out to know what we mean, and we are here to help you with our favourite picks.
Gelato Sticks & Popbar
This one's for all the calorie-conscious ice-cream addicts in the house. Their delishious flavours will transport you to the streets of Italy, while you stroll down Carter Road. AND they've given it a little gourmet twist by letting you make your own creation with a delectable choice of candies and decadent toppings. Dip it, drizzle it, dress it, love it!
Falooda
A true Indian would know that there is no other dessert quite like the quintessential falooda. The folks at Shahi Durbar have won our hearts because they've perfected seasonal flavours like mango and sitafal while retaining the original like the Kesar Kulfi Falooda.
#Protip: Even though everything makes our mouths water, we'd suggest you give their house special - Shahi Durbar Special Falooda a shot. It comes loaded with rabdi, kulfi, milk, vermicelli. Basically one full glass will be enough to tantalize your taste buds.
Kulfi
Kulfi sticks or kulfi slice? Take your pick (or pick both!) Malai, Kesar Pista, Anjeer, Chocolate, Paan - the different types of kulfi sticks will spoil you for choices. The most fun part of it is taking your pick from a range of neatly stacked colourful kulfis. The combination of the delightful flavours along with the process of decision-making will make you feel like a child again. If you're not a kulfi -on-a-stick kinda person, you can opt for the sliced up version of the same.

Fruit 'N' Cream
Shahi Durbar takes simplicity to another level! Their signature Fruit and Cream, known as Fresh Fruit Creams is a must have mostly because it will fill you up exactly as much as you desire.The richness and freshness of the fruit keeps it light and the fresh cream is just a perfect accompaniment for your palate. Since the season of mangoes is here, that's their best seller, but we personally also love the mixed fruit. They've got so many - try 'em out and let us know which one you love!

So, We Are Saying…
Satiate your dessert cravings with Shahi Durbar and indulge in a dessert that is budget friendly AND authentic in taste and flavour. With desserts starting as low as INR 70, this original Falooda King of Mumbai is a must visit, especially when the summer is just too hot to handle!

Comments