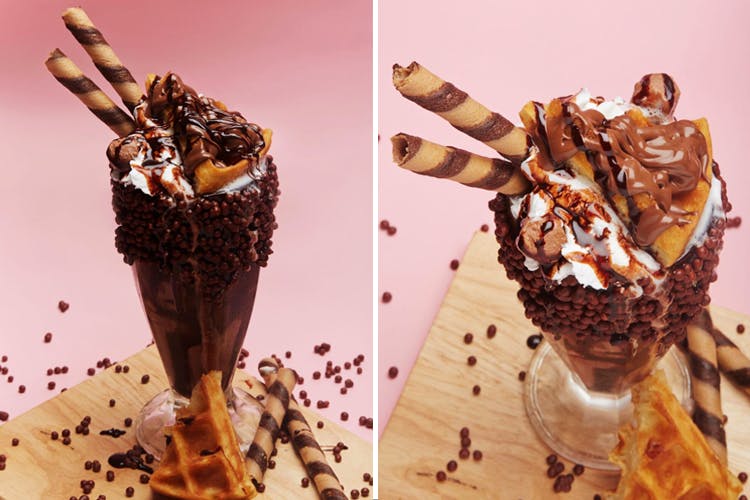 Treat Yo' Self: Here's Where You Can Get The Most Over-The-Top Freakshakes In Mumbai
Ten-Second Takeaway
Freakshakes have been steadily growing in popularity across the world. Invented in Australia, these overloaded glasses of happiness are essentially giant milkshakes topped with desserts. Of course, Mumbai has been taking to freakshakes like bees to nectar and here are some of the most epic freakshake joints that you must check out.
Melting Morsels, Pali Naka
With cheerful decor done in pastel shades and seating space for about 10 people, Melting Morsels puts a delectable range of freakshakes on your table. The menu has everything from a comforting mac n cheese in a cup to sugar-free cheesecakes for those who are keeping it healthy. Priced at INR 150, you can have peanut butter, Ferrero Rocher, Nutella freakshakes here. 
Read more here.
Locals Eatery, Andheri West
The best part about this Four Bungalows place is that it remains open till 4am. It is a tiny establishment, but don't judge it by the size. Locals Eatery can whip up a massive burger with proficiency, and what they absolutely ace are the brilliant freakshakes. Now, Mumbai has a brilliant place to douse its midnight sweet tooth cravings!
Read more here. 
Coffee by Di Bella, Versova
Love chocolate and don't wanna miss out on Oreos either? If you crave a good milkshake, Coffee by Di Bella is where you should be headed to. With three freakshakes that rebel against any form of diet that you may have been trying to practice, Coffee by Di Bella takes cues from the original freakshakes of Canberra, Australia, to give Mumbaikars their freshest, craziest dessert till date.
Read more here.
IceKraft, Andheri West
Think Nutella, and think red velvet waffles at the same time. Seems outlandish? Put them in a Nutella jar, and you get an instant sugar rush from this freakshake at IceKraft. One of the best dessert parlours of Mumbai, you also get mind-numbing ice creams served at this one.
Read more here. 
D:OH, Lower Parel and Andheri West
This cute little self-service cafe is steadily making a place of its own with foodies. From putting pretzels on the shakes to creating a chocolate monster, they have it all. So if you're a lover of creamy milkshakes, head to this cafe in Lower Parel or Andheri West to get your dose.
Read more here.
145, Kala Ghoda & Bandra
If your mantra is to completely indulge yourself in shakes that are topped with whipped cream, Oreos, sprinkles, doughnuts or even cakes, then you cannot afford to miss out on the freakshakes that this cafe offers.
Read more here
Frisbees
This eatery in Andheri, famous for it's cheesy pizzas and juicy burgers now also serves some of the most decadent freakshakes in town. You must try the Yellow Mellow and the Candy Flip shake.
Read more here
Spesso Gourmet Kitchen
Spesso, famous with townies for it's delectable vegetarian world cuisine, is now also serving some freakshakes, keeping up with the Australian trend. Do try their creamy and chocolaty shakes.
Read more here
#LBBTip
These freakshakes usually come in one standard size, but you can request the restaurants for tasters if your appetite is tiny.
Comments