The information in this post might be outdated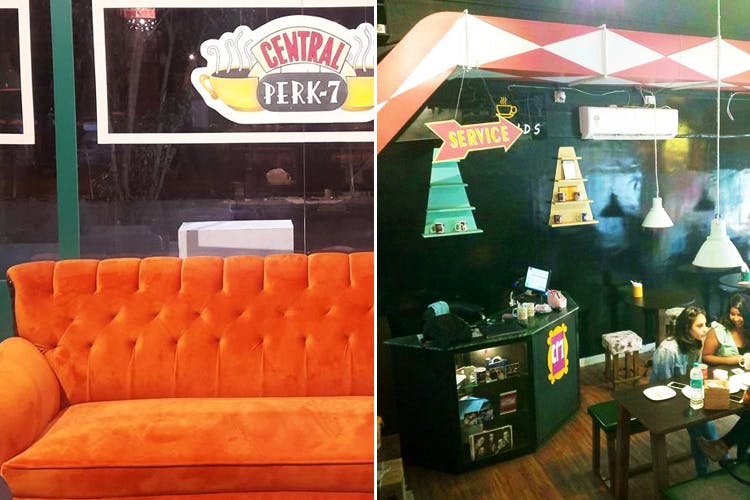 Delivery Available

Wi-Fi Available
How You Doin': This F.R.I.E.N.D.S Cafe Is Everything You Hoped It To Be
Shortcut
We hung out at Central Perk 7 in Kharghar and we're totally in awe of how they've recreated the magic of our favourite sitcom!
What Makes It Awesome
Inspired by the mother of all sitcoms F.R.I.E.N.D.S, Central Perk 7 at Kharghar is a replica of the famous coffee shop in the show. The place has some amazing wall decor that depicts scenes from the series. They even have the big, mushy orange couch and the Joey-Chandler foosball table. It's the perfect place to hangout with your gang, and doubly so if any one of you is a die-hard F.R.I.E.N.D.S fan.
Right from the decor to the menu, everything is inspired from the famous show. They have a quirky mocktail menu with a drink named after each of the six characters. Ms. Chanandlar Bong is what got our attention. There are knick-knacks and memorabilia from the show placed at every corner of the cafe. It is a cozy little place. There are two seating areas: ground and the mezzanine. If you have a large gang, it might be a tad difficult to accommodate those many
The place has pretty good vibes just like the happy feelings you get while watching F.R.I.E.N.D.S., and the friendly staff just makes it better. The BBQ Chicken Pitara is one of the popular choices here - a tender chicken patty placed snugly between two pita breads, it is a reminiscence of a delightfully delectable sandwich pizza. Do try the very refreshing Guava Slush to wash it all down.
Pro Tip
Your day can't get any better if you're at this F.R.I.E.N.D.S cafe. Get your gang together. And if you look deeper, there is a Monica, a Phoebe, a Chandler, a Joey, a Ross and a Rachel right there. Tag them, and let them know!
Comments
Delivery Available

Wi-Fi Available