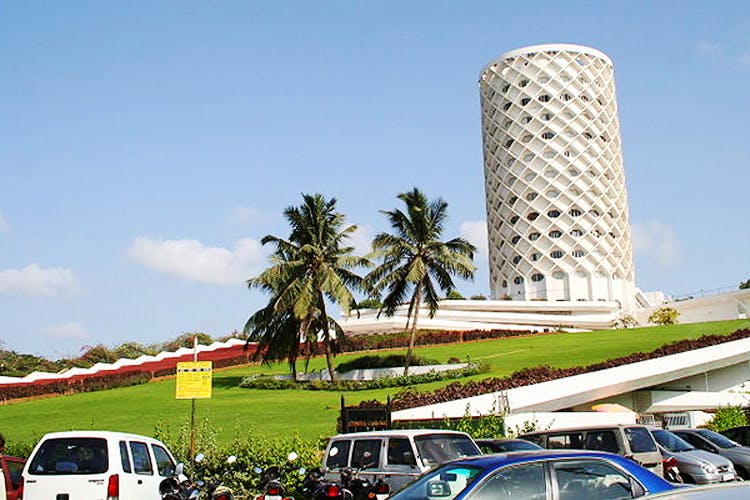 New To The Maximum City? Don't Worry, We've Got Your Back With This Guide
There comes a day when you get down at the airport, breathing in a different air, soaking in a different atmosphere and before you know it, the city has already wrapped itself around you. Such is this city, Mumbai. Now, if you're new and want to know what to do in Mumbai, where to go eat, shop, drink or take a breather here, be our guest.
Must-Visit Iconic Eateries
Food is a very subjective (and touchy for a few!) topic. Everybody has a different take on it. Names will pour out in abundance. Theobroma, Le Pain Quotidien, Ram Ashraya, Britannia & Co., Suzette, and a lot more are names that frequent this list. Have a soul-satisfying South-Indian breakfast that consists of podi idli and sambar at Ram Ashraya, or devour the pulled pork burger at IMBISS, an all-meat soiree (our mouths are already watering).
Hit up Le 15 Cafe in Colaba or Goregaon for some delicious handcrafted desserts. Your trip is incomplete without a visit to the legendary Leopold Cafe in Colaba for their fiery chilli chicken paired with a chilled beer (are you going to fight that?); it's the perfect place to unwind in the evening.
Local Watering Holes
From "It's the month-end, let's go to a cheaper place" to "I don't mind paying INR 800 for a cocktail", Mumbai has it all, just like any other city. If you are looking to drink on a budget, Janata Bar in Bandra, Sunlight in Kalbadevi and Gokul in Colaba are your best bets.

If you like to swirl your wine perfectly, and want it served at the perfect temperature, you must hit up Cafe Zoe or the Wine Villa. If your parents are in town, check out Bastian for some seafood delicacies and mouthwatering desserts.
Organic Cafes For The Healthy You
Didn't get a chance to hit the gym, but still want to eat out? Don't miss out on visiting Birdsong Cafe for their most sought after chocolate milkshakes in the city. Sante Spa is another great place to eat in Mumbai, with its range of health food. Suzette is another fun option with some of the tastiest food we've had that's healthy too. Masque is one of the most sought out restaurants in the city, a perfect match for gourmet-loving couples.
Shopping Haunts
You will find a little bit of Delhi's famous Sarojini (read budget shopping) at Hill Road in Bandra, Lokhandwala Market in Andheri, Colaba Causeway and Linking Road in Bandra for clothes. For home decor, head straight to Chor Bazaar and Lohar Chawl for lights of all shapes and sizes (some you wouldn't even have imagined).
At Oshiwara at the Furniture Market, you can buy really classy teak furniture to amp up your living room. If you're brand conscious, just cab it to Phoenix Marketcity in Kurla or Palladium in Lower Parel. Don't forget to keep yourself hydrated if you're out in the sun for too long.

Culture Trip
Mumbai is very rich in its culture and heritage and for those who'd like a dose of it, there are plenty of museums and art galleries to get lost in. For starters, there's Chhatrapati Shivaji Maharaj Vastu Sangrahalaya, Kala Ghoda, Nehru Planetarium, Bhau Daji Lad Museum and more. If you bond with your friends, colleagues or parents over history and not coffee, you should be camping (not literally, of course) in South Mumbai. Check out our list of historical spots in Mumbai.

Local Khau Gallis
Foodies would agree that this city would be incomplete without its khau gallis, be it in Sion, Churchgate or Ghatkopar. Every place has something unique to offer you. Read more about them here.

Travel Tales
Everyone deserves a break once in a while, and you can take one on any weekend (as long as you're not working). There are a bunch of treks, camps and gigs that happen every weekend all over Maharashtra. All you need is the will to travel and a ticket to hop on to a bus or train (you can drive down too) and break the monotony of your weekday routine. Spots that easily accessible to visit with friends include Bhandardhara, Kolad, Prabalmachi, Saphale and more. Looking at taking your better half to some place nice? Try The Machan at Lonavala, it's only a short drive away.
Gigs And More
If you ever have to soak yourself in good music, gigs are the best way to do so. There's Razzberry Rhinoceros in Juhu (don't miss the sunset), Hard Rock Cafe in Andheri, Bonobo, NCPA and more. There are also performance venues for comedy, plays and musical performances. Gather your friends in the city and hit one of these spots. Do check beforehand if any super fantastic gig is happening at any of these places.
Breather Time
It's a myth that the city doesn't have many parks. You can take a breather or go for run at Jogger's Park, Priyadarshini Park, Shivaji Park, Hanging Gardens. There are also forts to be hung at – Sion Fort and Bandra Fort are probably the two most visited forts in the city. Check out our guide to parks that are open till late here.
Comments