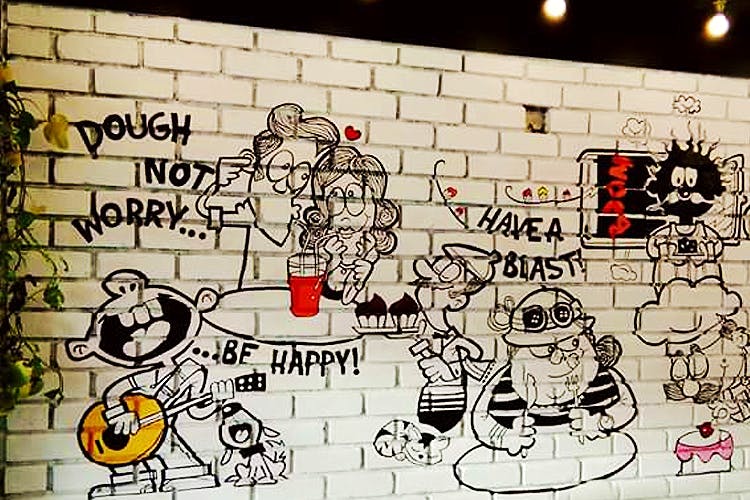 Quirk Up Your Walls With Cartoon Murals From Doodle Design
Shortcut
Let's acknowledge the millennial truth. Wallpapers are so 2014. Wall murals and hand painted walls is what's leading the pack these days, and you gotta go with the flow.
Doodle Design is a design company based out of Pune and they will come to your homes in Mumbai to quirk up your drab walls with witty cartoons as wall murals.
What Makes It Awesome
Doodle Design, though is Pune-based, they will come down to Mumbai and conjure up a magical wall for you. Run by Payal, the studio takes orders to come to your home, office spaces, cafes – anywhere – and create a wall mural for you. They mainly deal in quirky and witty cartoons and sketches, but they're a blank slate as far as customer's choices and needs go.
They create an entire story for you in the form of cartoons. They understand the vibe the customer is looking, and work around that. For example, if you love reading books, or it's a publication that calls them out, they will probably do a play on owls reading in a library.
Payal tells us the idea behind these murals is to exude a happy and a positive vibe for the people. Therefore, these cartoons convey a vibe that is supposed to bring out the positivity in the people.
They first work on the sketch, scribble it out and create a stencil of it. Once the initial work is done, they go on to paint the wall murals which generally takes up to two or three days. If you're calling them to Mumbai, they will take care of their boarding. However, if it's outside of Mumbai, there will be additional charges.
They start their pricing at INR 25,000 upwards, and they are open to customisation as well.
Pro-Tip
Wall murals are colourful, and a lot more personal than the wallpapers available in the markets. You can quirk up your living room, bedroom or even your workplace with fun cartoon or caricatures.
To get in touch with them, contact them on 095036 43817.