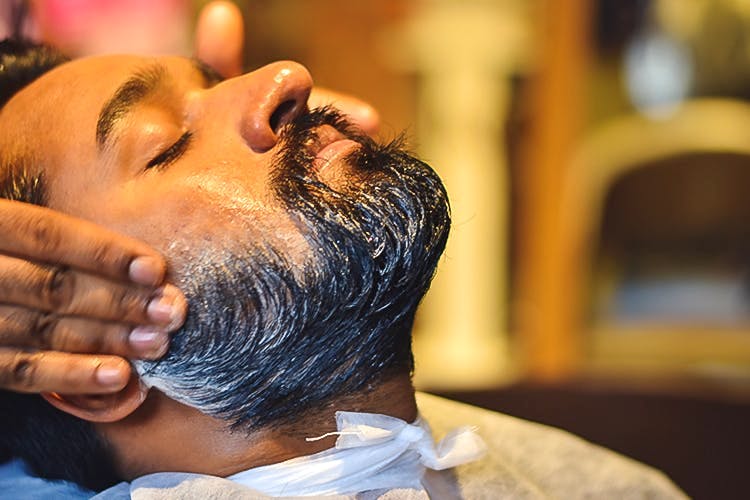 Gentlemen, Up Your Beard Game With Premium Services From The Man Company Lounge At These Salons
Shortcut
Head over to The Man Company Lounge at your nearest Enrich Salon for premium Beard Styling & Spa services and step up your beard game!
Ain't No Love Like Beard Love
We all know how important it is to maintain that beard and The Man Company Lounge has just the right services for you guys! Bring out your inner gentleman with Premium Beard Styling and Beard Spas. For a dapper look, go for Premium Beard Styling regime that includes deep beard cleansing, trimming, applying pre-shave oil and a rich shaving gel. Services also include three types of Spas – Shine Beard Spa With Almond Thyme, Anti-Fizz Beard Spa Using Argan & Geranium and Hydrating Beard Spa With Lavender and Cedarwood. Get ready to sit back and relax and let them experts do their thing while you get a relaxing beard and forehead massage enriched with essential oils.
Get Dapper
For those who carry the clean-shaven look, Premium, Luxury or Royal Shaving – take your pick! Premium Shave includes the application of pre-shave oil, rich shaving gel and a relaxing post shave balm for an immaculate traditional shave. On the other hand, Luxury and Royal Shaving have the additional goodness of activated charcoal and essential oils while you get a deep face cleanse.
Anything Else?
The TMC Lounge uses special TMC grooming product range. We're talking shampoos, face washes, beard oils, beard washes, soap bars, body washes, shave gels, fragrances and, not to miss the beard and hair combs. The best part? Their products contain 100% natural premium cold pressed essential oils and are paraben free! Where: Enrich Salons Click here to find one near you!