The information in this post might be outdated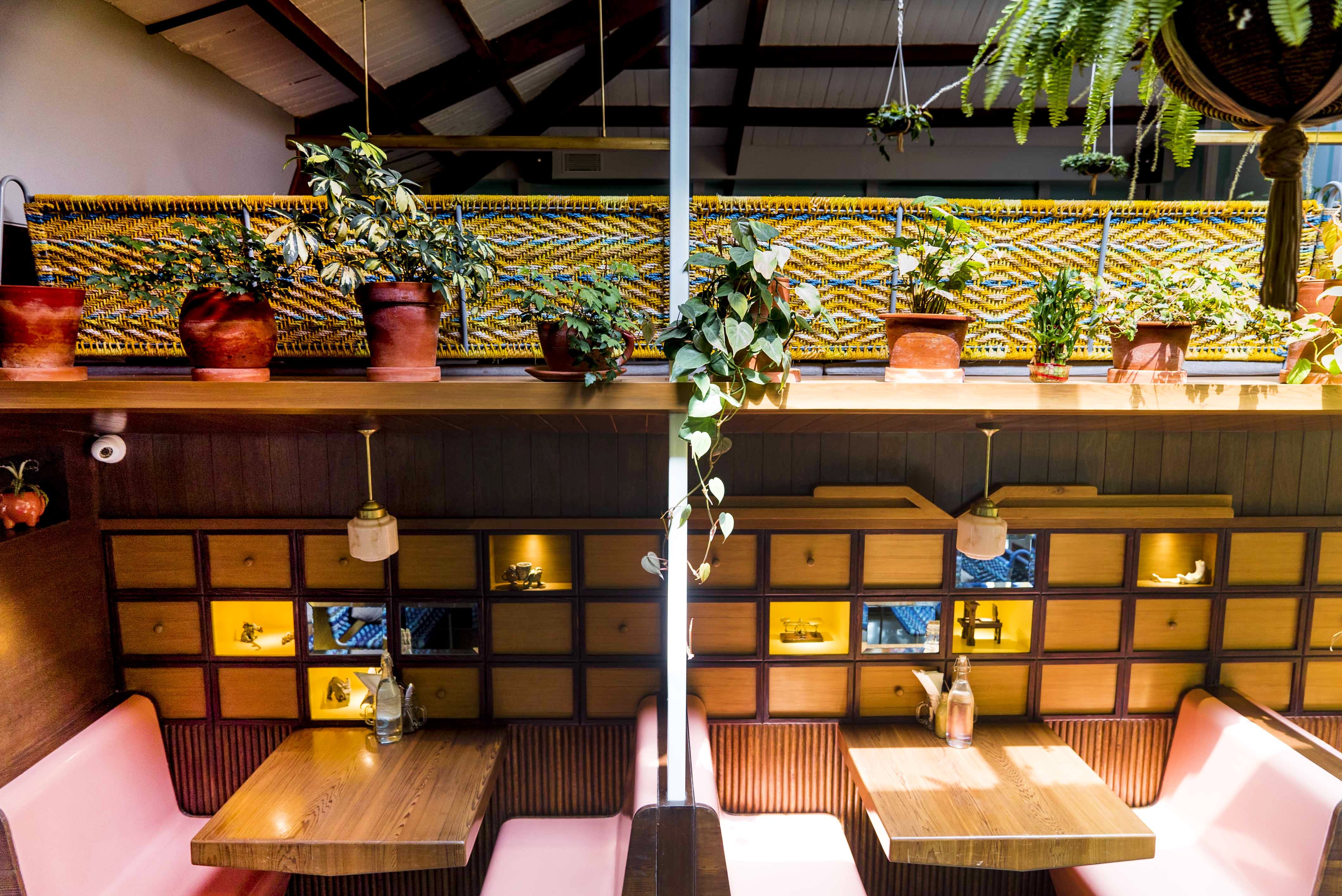 Get The Look: Here's How You Can Replicate Jamjar Bandra's Pinterest-Worthy Interiors
Have you stepped inside the new Jamjar Diner in Bandra? The bright turquoise blue door on Hill Road is nothing but inviting, and the restaurant itself is a gorgeous space made with a whole lotta love, time and labour by Anup Gandhi, Nevil Timbadia and Sahil Timbadia.
The interiors of the space have been done by designers Arjun Raja and Akshara Varma of the Office of Cognitive Design. Contact them on +919740535222 or +919886229111
Lights, Camera, Action
The warmly lit up space has beautiful glass lights over the tables, and come in different colours of pale pink, blue with interesting brass work.
The lights have been sourced from a shop, Al-Anwar in Chor Bazaar, who collects glass globes from different parts of the world. You can contact Mr Aziz on +919819851512.
The brass fixtures are made by Nabeel Sayyed who bends brass: +919967243355
Sit Down For A While, Please
The beautiful blue seating is actually a very high-tensile weave that has been created by hand by a company called The Retyrement Plan. Here, Anu Tandon Viera hires migrant workers and weavers and give them employment. Check their work here.
Or contact them here: +919820138062
The wooden furniture, high top stools and chairs have been made by Wasim, who can be contacted on +919967618688 for more information.
All The Little Things
The small niches by the side of the booths in Jamjar Diner have interesting curios and knick-knacks, each with an interesting story. Interesting paper mache work has been done by Preeti, whom you can get in touch with on +919811864737
The origami elephants have been made by Mumbai-based artist, Mohini. Get in touch with her on +919870546862.
Other most adorable miniatures have been collected on travels to Spain & Portugal.
Stained Glass
One of the features that stands out most about this outpost of Jamjar is the lovely stained glass through which we can see a glimpse of leafy Bandra. The beautiful textured work has been done by a Parsi duo who actually help in restoring old architectures, churches and more.
Contact Cyrus Jassawalla and Jaishree Karani on +919920989402 for details.
Let The Music Play
Half the fun of being in a cosy space like Jamjar is the big and small touches. The big thing here is what we cannot miss: the jukebox. Made by a company called Sound Leisure in London, it is an entirely handmade jukebox with over 9,00,000 songs to choose from.
It's a little unlikely that you'll go out on a limb and purchase a whole jukebox now, but here's where you can rent one in Mumbai.
Can We Have The Menu, Please?
The Jamjar food & drinks menu is nothing short of quirky, and is beautifully designed and illustrated by Soumya Khona. You can contact him on +9198206 01403 or check out his company website here.
The crockery, chosen in pastel colours is designed by Karan Kyani and you can get your hands on them too. Contact him on +919820182166
One of the most adorable little things here are the crotchet coasters lovingly made by hand by Anup's mother, Chayya P Gandhi. A few of them were also made by an NGO, Chindi who provide employment to lower-income women by the means of upcycling textile scraps and waste.
Goodbye, Now
While you're heading out from your satisfying meal, remember to take a quick detour upstairs and check out 'the attic'. A space for 6-8 people, this has been done up in a cosy turquoise colour, has tons of books and games to play with, and more.
You'll also notice a beautiful metal work in white framing the walls. This has been done by a French artist, Victor Evleen: +919739276018
Comments