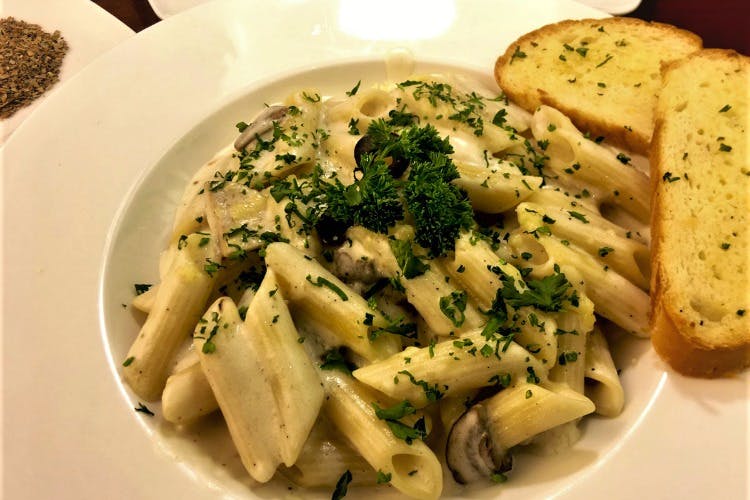 Ghatkopar Khau Galli Is A Vegetarian's Paradise
Ghatkopar Khau Galli is a cornucopia of vegetarian indulgences. Most khau gallis in the city usually have meat-based dishes that throw off your average vegetarian, but not here! Expect to find everything in the meat free realm here - complete with copious amounts of cheese. Read on!

WTC Pasta
Try the Pink Sauce Pasta (whatever shape you like is great!), THE NACHOS, and the Exotic Gravy Khichiya. It's a deluge of cheese, and we'd gladly take the plunge!

Price: INR 100-150
Jay Mashitala Juice Center
Shakes and juices are so hot right now - but sometimes they can be overpriced and underwhelming. Not here, though. Expect quality juices and shakes here, and just be thankful it's reasonably priced!
Price: Coconut milkshake INR 55, Kit Kat milkshake INR 50
Hot Spot
Hot Spot, which is a tiny barbeque stand right next to the pasta stall. They do tikkas and rolls of baby corn, mushrooms, paneer, and potatoes! The paneer tikka comes highly recommended, so that's what we'll suggest you try.
Price: Paneer Tikka plate INR 70
Sai Swad Dosa
Stacked in a single row, these dosa stalls are famous for their whacky varieties of dosa fillings like Maggi, pasta, and schezwan paneer. Head here, and allow yourself to experiment with the crazy flavours here!
Price: Between INR 80 to INR 180
Jain Pani Puri
The iconic Jain Pani Puri is a stone's throw away from Ghatkopar's Guru Kripa. Expect only Jain pani puri here (this is a vegetarian khau galli after all), but hey, it's absolutely delicious.
Price: One plate will cost you a paltry INR 20
Comments