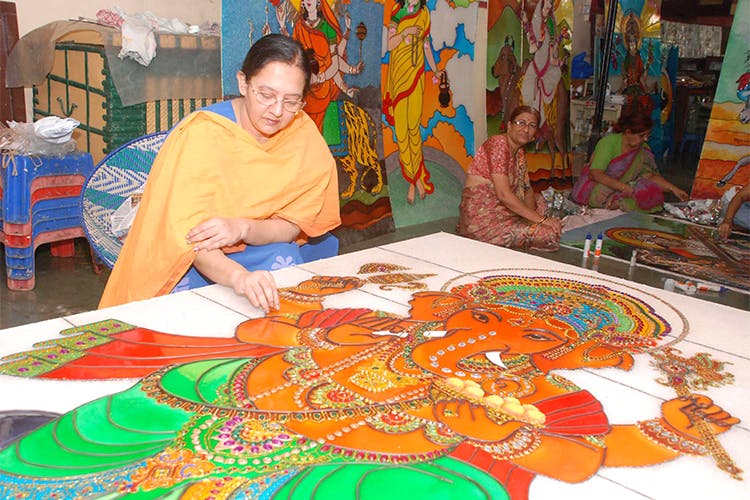 Art For Thought: Learn Painting, Calligraphy & More At This Vile Parle Bungalow
Shortcut
Always wanted to put a brush on paper but couldn't? We found a place where you can. Tulika Arts Center is located on S.V. Road and will help you channel your inner artist.
What Makes It Awesome
It's an arts centre run by a graceful lady called Ms. Mitul Pradeep, and the place is located in an old bungalow at S.V. Road but can easily be missed. A centre that believes in cutting off from the digital world and using art as therapy, it is quite the rage among adults and kids alike.
You're not allowed to use mobile phones during the class or click pictures. It's all about absorbing knowledge and having a little fun on the side. If you sign up, you get to learn calligraphy, oil painting, Tanjore painting and much more.
If you are an adult, looking to hone those brush skills or are looking to take a break from laptops, sign up for their adult batches. If you have a kid and want your little one to put the summer vacations to use, they would be delighted to have them.
The classes are on Thursdays, Fridays and Saturdays from 3 PM to 5 PM and start at INR 650 for short courses and INR 1,850 for 6-8 classes, depending on the course. When you speak to them, they'll promptly mail you the course list and fee structure.
Pro-Tip
Painting is a great stress buster and an efficient way to channelise energy. Keep your phones aside and connect with fellow enthusiasts here. Better yet, make time for yourself and unwind at a course that is sure to hone those skills.
Comments