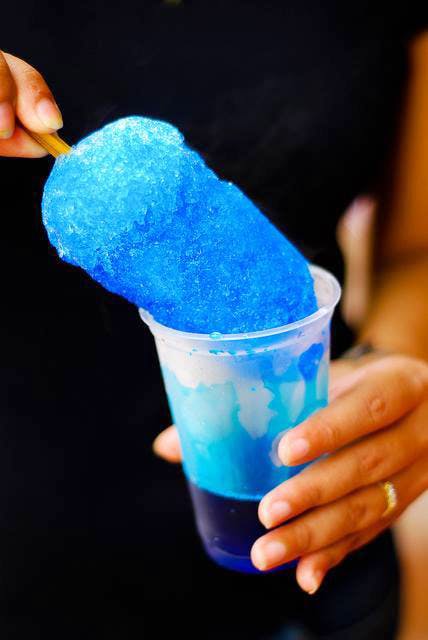 Ek Chuski Gola: Best Places In The City To Snack On This Summer Essential
Ice golas can never go out of fashion in Mumbai. And, there's no better way to get some respite from the heat, apart from slurping on these awesome iced miracles. They have seen massive transformation within a few years, and there's a whole new world beyond the Kala Khatta and the Kacchi Kairi. We've been on a mission to search for some great gola stalls off late, and we've been quite lucky. So in case you don't know about some of the best places to go to, keep this list handy, and beat the sun with us.
Milan, Juhu Beach
This one at Juhu Beach serves one of the biggest ice golas that we've seen. They've got an amalgamation of orange, rose, pineapple and kacchi kairi, for INR 150. And with all those colors, it's difficult to keep a straight face and not drool. While the taste is absolutely yummy, make sure you're able to balance it well, or take a few friends along with you when you go to Milan.
Mount Gola, Nariman Point
Mount Gola's flavourful golas will not just tantalize your taste buds, but are quite visually appealing too. Go for their kachi kairi and pineapple gola for INR 120. Its for those who love a sweet and sour treat. Also, give their faloodas (INR 100) a try, they are really good.
Jai Jawan Stall, Girgaum Chowpatty
Jai Jawan Stall in Girgaum Chowpatty is really a dessert lover's paradise. They have a brilliant spread of ice creams, sundaes, faloodas and kulfis. If you are looking for golas, try their chocolate chip milkmaid gola for INR 90. They also have the season's special mango golas that you can go for.
P.S -The place tends to be really crowded in the evening. So plan your treat time accordingly.
Pooja Malai Gola
This one's usually known for its snacks but its golas are lip-smacking too. Try their Litchi and Variali golas (INR 30 without malai, INR 80 with malai), which are new additions to the menu (Litchi can be seasonal though!) Their dry fruit and malai golas are for those who would like to try something fancy. And in case you want some dry fruits on your golas, shelve out INR 100 and you'll be served.
Shreeji Golewala, Powai
From 7 PM onward, this Golawala near Navi Mumbai's Hiranandani Towers, serves golas dipped in thick syrups with a topping of a generous quantity of dry fruits for INR 120. We totally recommend this one.
Go Gola, Bandra
The delivery-only store that Go Gola is, it stunned us with its watermelon and pistachio golas for INR 80 each. They only supply in bulk for events, weddings, parties, fleas, and pop-ups. So if you're planning something during summers, contact the best that's in business.
Comments