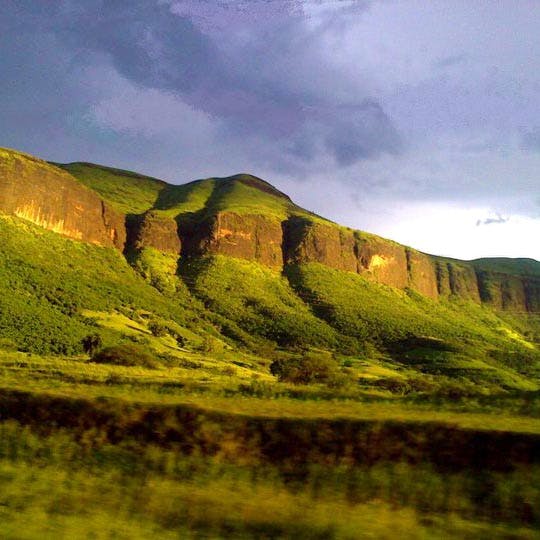 Planning A Trip To Igatpuri? Here's How You Can Spend A Weekend
Just a couple of hours away from Mumbai, Igatpuri is a hill station that is endowed with breathtakingly beautiful natural beauty, with lush greenery and cascading waterfalls making up the landscape. A popular weekend getaway destination for those in Mumbai, Igatpuri is famous for its natural beauty, treks, temples and lakes. It is also an important centre for Vipasana meditation. . Some popular places to visit in Igatpuri include Bhatsa River Valley, Arthur Lake, Kalsubai Peak, Amruteshwar Temple, Ghatandevi Temple and Tringalwadi Fort. Here's the lowdown on where to stay, where to eat and what to see while you're there.

How to get there
Igatpuri is 140 km from Mumbai, and easily accessible by road. If a road trip is not your jam, you can always opt for a train from Mumbai. The train station closest to Igatpuri is Kasara which lies 30 minutes away (by road) from Igatpuri.
Where to stay
Igatpuri has plenty of options for travelers of all budgets. There's resorts and villas galore that you can choose from, plus camping for all you outdoorsy types. Here are a few options where you can book a room for your next visit.
JenJon Lake Vaitarna Resort
Spread over two acres of property, this resort offers Swiss chalets and individual glass homes, making this a perfect holiday destination for a group. The property is located by the dam backwaters, and flanked by greenery all around. The resort offers facilities for swimming, water sports, camp fires, barbecues, cycling, and they even conduct treks and picnics to surrounding villages and farms. The resort has also tied up with vineyard and can arrange for a wine-tour and a wine-tasting session.

Tropical Retreat & Spa
Spread across 8.5 acres, this property offers lush landscapes, cozy rooms, and luxurious suites that are ideal for a weekend getaway. This resort is a great option for couples to enjoy privacy, and if you're in a large group, the suites here will ensure that all your needs are met. The rooms are luxurious, the property has a beautiful swimming pool, football turf and even a box cricket arena, and offers options for indoor games like table tennis, carom, chess and pool. The resort also has a spa and jacuzzi.

Pari House
If you're a group that enjoys minimalism, this property comes highly recommended. This 3 BHK villa has a living room tastefully designed with antiques, vases, clocks, and even a vintage wall paper. The attached terrace boasts of breathtakingly beautiful views of the Western Ghats all around. The villa is equipped with free WiFi, television with cable connection, air-conditioner, microwave, washing machine etc.

Mystic Valley Spa Resort
This is the ideal place to enjoy a relaxing break with a spa holiday. The property boasts of 40 exquisitely furnished deluxe suites with modern amenities, 12 luxury suites and 2 super luxury penthouses. The resort has a gym, spa, massage room, and a swimming pool.
Where to eat
There are a bunch of restaurants in Igatpuri that serve great grub in North Indian, South Indian, Chinese as well as local cuisines. When in Igatpuri, make sure that you eat the vada pav! Read on for some of the popular restaurants.

Zaika Family Restaurant
Located inside Hotel Comfort Inn, this is a restaurant famous for misal pav, vada pav as well as North and South Indian cuisines.
Greenland Pure Veg Restaurant
A vegetarian lovers delight, this is one of the popular restaurants on the highway that serves mouth-watering preparations of North Indian food. Their pav bhaji comes highly recommended.

Creme At Manas Resort
If you're looking for a fine-dine option in Igatpuri, try Manas Resort. Creme is a fine dining option that has an upscale vibe. This resort also has an open-air cafe with 360-degree views that's perfect for a date with a scenic view.

What to do
Igatpuri is a nature lover's haven and there are plenty of fun activities to enjoy if you decide to step outside the comfort of your resort or villa.
Tringalwadi Lake
A visit to Igatpuri guarantees a visit to the beautiful Tringalwadi lake and fort. The lake provides panoramic views of the massive fort and the majestic mountains. The Tringalwadi fort lies at an altitude of 3000 feet, and provides picturesque views of the landscape. This is also an excellent spot for trekking. During the monsoon season this place is a visual treat!

Vaitarna Dam
Another must-visit in Igatpuri is the Vaitarna Dam, a beautiful dam that boasts of stunning views of the Western Ghats. Bordered by forests, this dam is a lovely spot to unwind at, and comes highly recommended to those seeking a break into the wild.

Ghatandevi Mata Temple
Ghatandevi temple dedicated to Ghatan Devi, the protector of the Ghats, is another highly recommended place to visit while in Igatpuri. Surrounded by the Western Ghats, this temple makes for a serene, breathtakingly beautiful space in the lush green landscape.
Trekking Kalsubai Peak And More
If trekking is what you're looking for, there are a lot of peaks in this region that provide magnificent views along with fantastic trails in the wilderness. Kalsubai Peak, Avandha Fort, Madangad Mountain. Karoli Ghat, Camel Valley and Bhatsa River Valley are the popular trekking destinations in and around Igatpuri.
You can also visit the Vipasana International Academy. We recommend doing this when you have a lot of time in hand.

Comments