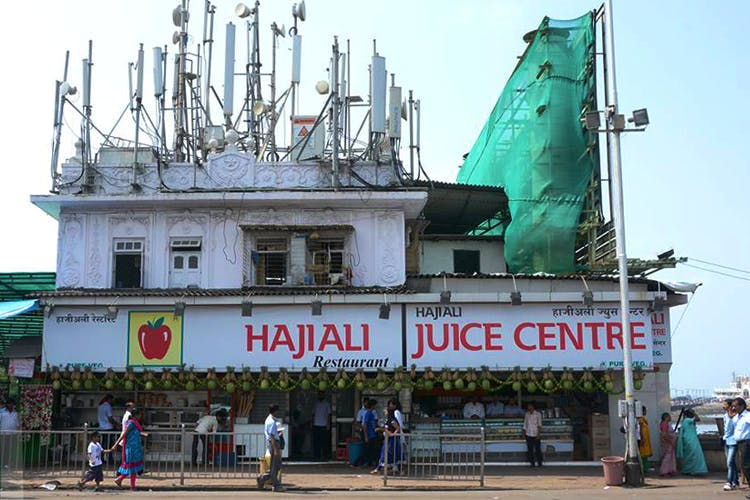 Oldie But A Goodie: The Many Charms Of Haji Ali Juice Centre
Shortcut
Located in the heart of Mumbai, the Haji Ali Juice Centre is one of the city's iconic eating – and drinking – joints. Instantly recognisable for its lettering, juices and late-night visitors, I decided to finally drop in after seeing it a hundred times on my daily commute.
Bites And Sips
Since I was visiting this place for the first time, I took recommendations from a friend and ordered a vegetarian cheese roll, a mango shake and a mixed fruit cream. Despite its iconic status, I can vouch for the fact that Haji Ali Juice Centre hasn't sacrificed its standards. The food was fresh and the presentation was appealing.
Sitting In The Backseat
Mostly preferred as a take-away joint, the place doesn't have any ambience as such, but has a small seating area at the back where customers can sit and enjoy their food.
Most people, however, prefer to drive-in and eat their food seated comfortably in their own cars. The staff stands in front of the juice centre and quickly runs up to any cars that slow down near the restaurant.
Not So Juicy
The one thing that might bother people hoping to check out a Mumbai classic are the flies. The seating area is totally not worth it because of this.
So We're Saying...
Do not forget to taste their mixed fruit cream. It is by far the best item they have on sale. And of course, since it's open till 1am, drive up to pick up a cheesy sandwich but keep in mind – at INR 600 for two people, it will seem a tad overpriced for a roadside joint.
Also On Haji Ali Juice Center
Comments