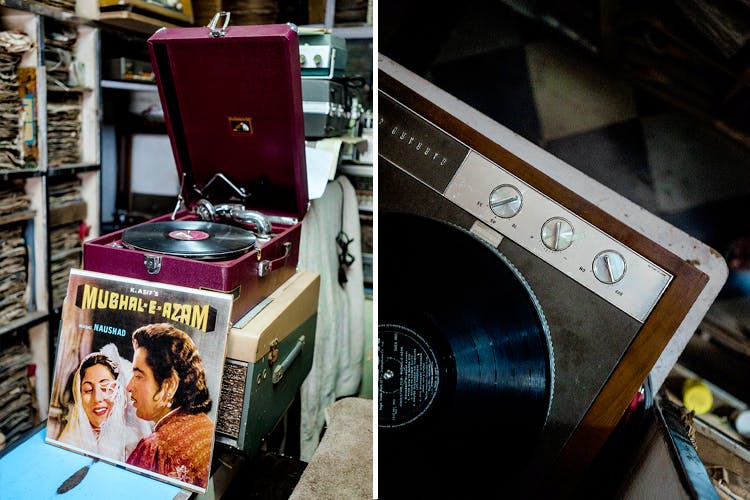 Go Back In Time & Disc-cover Vinyls At This 50-Year-Old Chor Bazaar Shop
Shortcut
Where in the midst of Chor Bazaar's order-less lanes can the melodic strains of Mughal-e-Azam's Pyaar Kiya Toh Darna Kya pour out from? Only at the 50-year-old Haji Ebrahim vinyl store.
Read on.
Dropping The Needle
On a drippy droopy day, we sauntered into Saifee Jubilee street in South Bombay's busiest markets with an infamous name – Chor Bazaar. Here, between the aisles of dusty records old and older, you'll find the younger brother of the late Haji Ebrahim, Asif picking through or listening to tracks on his turntable.
There are records in different languages and genres: English, Hindi, Gujarati, Marathi, Western and Classical. Collectors from across the city come and sell their once-prized possessions to him, and the stock he has most of at any time reflects widely on what the last collector enjoyed listening to most. Some times, you'll think of this shop as a jazz haven, because when you once visited he had records upon records showing off Louis Armstrong, John Coltrane, Miles Davis and Frank Sinatra.
The next time, you may find him heavy on the Mozarts, Beethovens and Chopins because of a classically-inclined collector.
What will always remain with him though are the iconic Madonna, Beatles, The Doors, The Police, ABBA, Michael Jackson or on the other end of the spectrum – Mohammad Rafi, Mughal-E-Azam, Amitabh Bachchan's movie records and more.
Turning Music & Time
This shop which earlier thrived during the days of record boom during the '70s, is now flailing to survive. Recent times, however, have seen a rise in the demand for records, and in fact popular 90's Bollywood movies such as Hum Dil De Chuke Sanam, Baazigar, Jodha Akbar, Dil Toh Pagal Hai have recently been turned from CD's and digital forms to the vinyl style. The discs at his shop are priced INR 300 upward.
When asked about the return of the disc, Asif says that the vinyl will come back although not the same way as before. 'A vinyl is a masterpiece. Every thing else pales in front of it,' he says with bordering-on-cocky confidence. Mesmerised by the Beatles track now streaming in the background, we happily nod in assent.
So, We're Saying...
The shop is open from 10am–8pm every day, besides Sundays when it closes at 5pm. It's worth coming here to make a visit, but if you want to spare yourself the effort, you may also ring him on his landline number 022–23466678  and ask about a record you want.
Comments