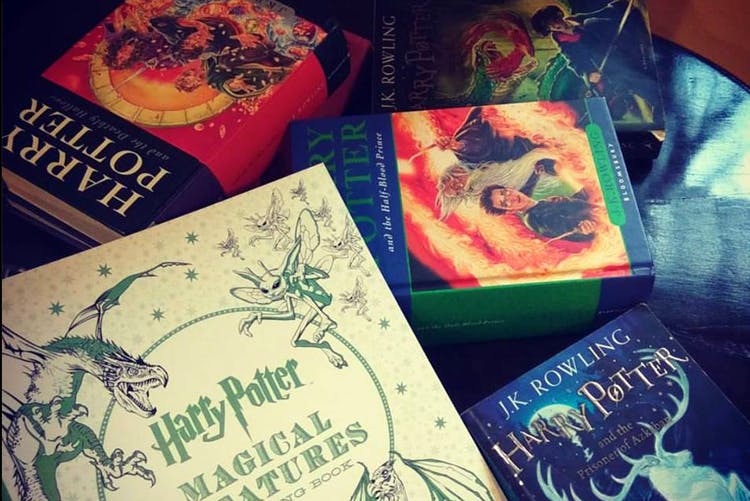 Harry Potter or Orhan Pamuk: Which Mumbai Library Fits You?
Finishing a great book can be as satisfying as it is saddening. When we finished Gone Girl, we were instant fans of the murderous spouse genre and knew we had to go find more. But worry not – we've scoured the collections of Mumbai's best libraries so you know where to go to fill the hole in your life left by the last great book you finished.
Mcubed Library
Don't be afraid! This is not a space for math geeks to solve incoherent equations. This little library tucked in the bylanes of Bandra is popular for its children's literature section. The shelves are lined with old favourites like Enid Blyton and Harry Potter, as well as new sensations such as Rick Riordian, Neil Gaiman, and Eva Ibbotson.
They also have a great adult section featuring books penned by Orhan Pamuk, Haruki Murakami and Alexander Mccall Smith among others that we loved. There are always events happening at the library, films, discussions, lectures and monthly meetings too.
#LBBTip: Since the library functions as a reading room as well, we're planning on returning to use the space for a quiet moment or two, at INR 50 a day, or INR 200 for a month.
If You Never Really Moved On From Hogwarts
Trilogy by The Eternal Library
The opposite of the Bollywood-loving nightclub it shares its name with, this library founded by Ahalya and Meethil Momaya, is a breath of fresh air. The walls are lined with books including old favourites and contemporary picks too. In their exceptional young adults section, Anne of Green Gables by Lucy Maud Montogomery, I Capture a Castle by Dodie Smith, Looking for Alaska by John Green and Inkheart by Cornelia Funke happily mingle with each other here.
This library doubles up as a bookstore and we are planning to come back to refurbish our home collections.
#LBBTip: The team at Trilogy can also help you set up a library in your home, office or society. Besides that, we loved telling the founders what we read last – in their infinite wisdom, they offered up some more books we loved.
If You Think A Comic Panel Is Worth A Thousand Words
Leaping Windows
Even the name conjures the image of a superhero leaping through windows. We love heading to this small library in Versova, which caters to lovers of comics, manga and grahic novels. They stock the popular Marvel and DC comics and others such as Scenes from an Impending Marriage and Mister Wonderful. This flourishing library also has a great café, so we picked up our comic over a cuppa.
#LBBTip
Feeling lazy? Leaping Windows dropped and picked up our comic selections from our doorsteps.
Comments