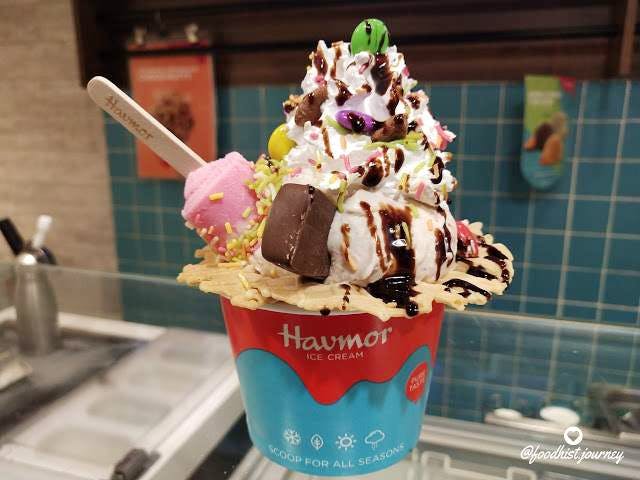 Havmor Premium Candylicious Ice Cream At Havfunn Store In Bandra West
What Makes It Awesome?
A journey from a small candy shop handcart where Ice Creams were painstakingly churned all night to a now complete full-fledged branded company. Havmor Ice creams have an amazing 70 years old legacy. Today Havmor ice cream is one of the most popular brands in India serving a whole variety of interesting yummy, delicious products which are today available across 14 markets in India with a network of restaurants, eateries and Havfunn parlours. They have also started one of the most premium brand Huber & Holly boutique offering a combination of amazing ice-creams. Recently I had this opportunity to visit Havmor Havfunn Premium Ice Cream Parlour in Bandra West Mumbai and it was such a pleasurable experience. My very first experience of eating a Havmor Ice Cream was during my road trip journey from Mumbai to Goa. Really inexpensive ice creams. I have tried all their flavours Raj Bhog, Paan, all the different fruit candy sticks, different flavours of scoops and cones etc. Even the fruit sticks were of just Rs 15. You must try the Kiwi fruit stick of this brand if you ever can, I think it's one of the best flavours they serve, you get an entire fruit pulp in that candy stick so delicious. In this Bandra outlet near Amarsons, you don't get those inexpensive ice creams here, this store only serves high-quality premium ice creams and they all are so delicious and drool-worthy ice cream. The experience, ambience, quality, service is a lot better at this store as compared to other Khar outlets. The seating is comfortable, they have both high rise chairs to low table seating areas. Their menu is amazing they have a whole variety of Exotic Sundaes, Milkshakes, Ice cream scoops, handcraft candies and even take away tubs. The service is very good and the staff is extremely friendly. Now coming to the food this is what I tried: -Hotch Potch: Premium Candylicious Ice Cream (Rating:5*/5): This ice stone ice cream is prepared on a frozen stone machine which is set on a certain temperature to get the desired texture of the ice cream. After the temperature is set 2 huge scoops of ice creams are placed along with gems, chocolate bars, chocolate syrup etc. And all the candy ingredients are added and then mixed by the experts. Once all the mixing is completed this ice cream mixture is placed in a crispy waffle cup and then super delicious toppings are added like, a lovely cute pink candy stick, lots of whipped cream, ice cream rainbow topping sprinkles, chocolates etc. Highly Recommended. The entire process takes 10 to 15 mins. It costs Rs 170 Regular and Small Rs 99 Also, do try the Hotch Potch they have Fruity Affair, Cookie Brownie, Berry Buzz, Kulfi Takatak, Coffee Pastry, Havmor Celebration, Chocolate Addiction etc. They also have signature blockbusters, milkshakes and more. The price range is all around Rs 200. My Experience: Quality: Excellent Quantity: Excellent Price: Moderate Wheelchair Accessible Entrance: No Restroom: Not Available Seating: Comfortable Ambience: Good Hygiene: Excellent Parking: Not available Type: Premium Ice Cream Parlour Staff: Very friendly Service: Depends on what you order the hotchpotch takes 10 to 15 mins for preparation time. Overall Value for Money 5/5
Best To Go With?
Family, Big Group, Bae, Kids.
Comments